{"id":5242117652638,"title":"JB-BOX - Portable UV Light Sterilizer Box","handle":"jb-box-portable-uv-light-sterilizer-box","description":"\u003cdiv\u003eNo chemicals, heat, or water needed! JB-BOX is a portable UV Light Sterilizer Box. It can be used to sanitize jewelry, watches, wallets, and so on. The box uses six UV lights and eradicates up to 99.9% of germs in minutes.\u003c\/div\u003e\n\u003cdiv\u003e\u003c\/div\u003e\n\u003cdiv\u003e\n\u003cul\u003e\n\u003cli\u003eMULTIPURPOSE STERILIZER BOX - Our high-quality sterilizing box can be used for a wide variety of household items. It's a great way to clean your personal items such as makeup brushes, manicure set, scissors, hearing aids, cell phones and a lot of other accessories.\u003c\/li\u003e\n\u003cli\u003eCOMPACT AND EASY TO USE - It's a dry heat sterilizer machine with an interior measuring 7.28\"L x 4.13\"W x 0.59\"H. Perfect for mobile phone, cosmetic brush, manicure, shaver, daily necessities disinfection, etc. Simply open the lid, place your items in, and press the button once it's closed. All it takes is 5 minutes to complete a total uv disinfection cycle.\u003c\/li\u003e\n\u003cli\u003eSANITIZER WITHOUT CHEMICALS - This advanced cleaning method is the same one used by labs, restaurants and medical offices. It uses safe, invisible, reflective light to sanitize items from all corners.\u003c\/li\u003e\n\u003cli\u003eAROMA DIFFUSER - Add a droplet of liquid fragrance, diffuse pleasant scent for your items while sanitizing.\u003c\/li\u003e\n\u003cli\u003eHEALTH AND SAFETY FOR THE FAMILY- Our innovative sterilizer helps create a clean and sanitary environment for your family.\u003c\/li\u003e\n\u003c\/ul\u003e\n\u003c\/div\u003e","published_at":"2020-05-25T20:58:10+08:00","created_at":"2020-05-25T21:29:57+08:00","vendor":"jabeesstore","type":"Lifestyle","tags":[],"price":4999,"price_min":4999,"price_max":4999,"available":true,"price_varies":false,"compare_at_price":null,"compare_at_price_min":0,"compare_at_price_max":0,"compare_at_price_varies":false,"variants":[{"id":34426711376030,"title":"Black","option1":"Black","option2":null,"option3":null,"sku":"31006BK","requires_shipping":true,"taxable":true,"featured_image":{"id":18356014416030,"product_id":5242117652638,"position":1,"created_at":"2020-08-08T13:46:49+08:00","updated_at":"2020-08-11T22:24:35+08:00","alt":"JB-BOX - Portable UV Light Sterilizer Box - Health Care - jabeesstore - jabeesstore","width":1500,"height":1500,"src":"https:\/\/cdn.shopify.com\/s\/files\/1\/0052\/6775\/0984\/products\/UVSterilizerBoxJB-BOX_Black1.jpg?v=1597155875","variant_ids":[34426711376030]},"available":false,"name":"JB-BOX - Portable UV Light Sterilizer Box - Black","public_title":"Black","options":["Black"],"price":4999,"weight":0,"compare_at_price":null,"inventory_management":"shopify","barcode":"4897042103150","featured_media":{"alt":"JB-BOX - Portable UV Light Sterilizer Box - Health Care - jabeesstore - jabeesstore","id":10530533376158,"position":1,"preview_image":{"aspect_ratio":1.0,"height":1500,"width":1500,"src":"https:\/\/cdn.shopify.com\/s\/files\/1\/0052\/6775\/0984\/products\/UVSterilizerBoxJB-BOX_Black1.jpg?v=1597155875"}},"requires_selling_plan":false,"selling_plan_allocations":[]},{"id":34426711408798,"title":"White","option1":"White","option2":null,"option3":null,"sku":"31006WT","requires_shipping":true,"taxable":true,"featured_image":{"id":16940611928222,"product_id":5242117652638,"position":8,"created_at":"2020-05-25T23:16:11+08:00","updated_at":"2020-08-08T13:47:13+08:00","alt":"JB-BOX - Portable UV Light Sterilizer Box - Health Care - jabeesstore - jabeesstore","width":1500,"height":1500,"src":"https:\/\/cdn.shopify.com\/s\/files\/1\/0052\/6775\/0984\/products\/JB-BOXUVSterilizerBox_White1.jpg?v=1596865633","variant_ids":[34426711408798]},"available":true,"name":"JB-BOX - Portable UV Light Sterilizer Box - White","public_title":"White","options":["White"],"price":4999,"weight":0,"compare_at_price":null,"inventory_management":"shopify","barcode":"4897042103174","featured_media":{"alt":"JB-BOX - Portable UV Light Sterilizer Box - Health Care - jabeesstore - jabeesstore","id":9114461896862,"position":8,"preview_image":{"aspect_ratio":1.0,"height":1500,"width":1500,"src":"https:\/\/cdn.shopify.com\/s\/files\/1\/0052\/6775\/0984\/products\/JB-BOXUVSterilizerBox_White1.jpg?v=1596865633"}},"requires_selling_plan":false,"selling_plan_allocations":[]}],"images":["\/\/cdn.shopify.com\/s\/files\/1\/0052\/6775\/0984\/products\/UVSterilizerBoxJB-BOX_Black1.jpg?v=1597155875","\/\/cdn.shopify.com\/s\/files\/1\/0052\/6775\/0984\/products\/JB-BOXUVSterilizerBox_Black2.jpg?v=1596865633","\/\/cdn.shopify.com\/s\/files\/1\/0052\/6775\/0984\/products\/JB-BOXUVSterilizerBox_Black3.jpg?v=1596865633","\/\/cdn.shopify.com\/s\/files\/1\/0052\/6775\/0984\/products\/JB-BOXUVSterilizerBox_Black4.jpg?v=1596865633","\/\/cdn.shopify.com\/s\/files\/1\/0052\/6775\/0984\/products\/JB-BOXUVSterilizerBox_Black5.jpg?v=1596865633","\/\/cdn.shopify.com\/s\/files\/1\/0052\/6775\/0984\/products\/JB-BOXUVSterilizerBox_Black6.jpg?v=1596865633","\/\/cdn.shopify.com\/s\/files\/1\/0052\/6775\/0984\/products\/JB-BOXUVSterilizerBox_Black7.jpg?v=1596865633","\/\/cdn.shopify.com\/s\/files\/1\/0052\/6775\/0984\/products\/JB-BOXUVSterilizerBox_White1.jpg?v=1596865633","\/\/cdn.shopify.com\/s\/files\/1\/0052\/6775\/0984\/products\/JB-BOXUVSterilizerBox_White2.jpg?v=1596865633","\/\/cdn.shopify.com\/s\/files\/1\/0052\/6775\/0984\/products\/JB-BOXUVSterilizerBox_White3.jpg?v=1596865633","\/\/cdn.shopify.com\/s\/files\/1\/0052\/6775\/0984\/products\/JB-BOXUVSterilizerBox_White4.jpg?v=1596865633","\/\/cdn.shopify.com\/s\/files\/1\/0052\/6775\/0984\/products\/JB-BOXUVSterilizerBox_White5.jpg?v=1596865633","\/\/cdn.shopify.com\/s\/files\/1\/0052\/6775\/0984\/products\/JB-BOXUVSterilizerBox_White6.jpg?v=1596865633","\/\/cdn.shopify.com\/s\/files\/1\/0052\/6775\/0984\/products\/JB-BOXUVSterilizerBox_White7.jpg?v=1596865633"],"featured_image":"\/\/cdn.shopify.com\/s\/files\/1\/0052\/6775\/0984\/products\/UVSterilizerBoxJB-BOX_Black1.jpg?v=1597155875","options":["Color"],"media":[{"alt":"JB-BOX - Portable UV Light Sterilizer Box - Health Care - jabeesstore - jabeesstore","id":10530533376158,"position":1,"preview_image":{"aspect_ratio":1.0,"height":1500,"width":1500,"src":"https:\/\/cdn.shopify.com\/s\/files\/1\/0052\/6775\/0984\/products\/UVSterilizerBoxJB-BOX_Black1.jpg?v=1597155875"},"aspect_ratio":1.0,"height":1500,"media_type":"image","src":"https:\/\/cdn.shopify.com\/s\/files\/1\/0052\/6775\/0984\/products\/UVSterilizerBoxJB-BOX_Black1.jpg?v=1597155875","width":1500},{"alt":"JB-BOX - Portable UV Light Sterilizer Box - Health Care - jabeesstore - jabeesstore","id":9114461700254,"position":2,"preview_image":{"aspect_ratio":1.0,"height":1500,"width":1500,"src":"https:\/\/cdn.shopify.com\/s\/files\/1\/0052\/6775\/0984\/products\/JB-BOXUVSterilizerBox_Black2.jpg?v=1596865633"},"aspect_ratio":1.0,"height":1500,"media_type":"image","src":"https:\/\/cdn.shopify.com\/s\/files\/1\/0052\/6775\/0984\/products\/JB-BOXUVSterilizerBox_Black2.jpg?v=1596865633","width":1500},{"alt":"JB-BOX - Portable UV Light Sterilizer Box - Health Care - jabeesstore - jabeesstore","id":9114461733022,"position":3,"preview_image":{"aspect_ratio":1.0,"height":1500,"width":1500,"src":"https:\/\/cdn.shopify.com\/s\/files\/1\/0052\/6775\/0984\/products\/JB-BOXUVSterilizerBox_Black3.jpg?v=1596865633"},"aspect_ratio":1.0,"height":1500,"media_type":"image","src":"https:\/\/cdn.shopify.com\/s\/files\/1\/0052\/6775\/0984\/products\/JB-BOXUVSterilizerBox_Black3.jpg?v=1596865633","width":1500},{"alt":"JB-BOX - Portable UV Light Sterilizer Box - Health Care - jabeesstore - jabeesstore","id":9114461765790,"position":4,"preview_image":{"aspect_ratio":1.0,"height":1500,"width":1500,"src":"https:\/\/cdn.shopify.com\/s\/files\/1\/0052\/6775\/0984\/products\/JB-BOXUVSterilizerBox_Black4.jpg?v=1596865633"},"aspect_ratio":1.0,"height":1500,"media_type":"image","src":"https:\/\/cdn.shopify.com\/s\/files\/1\/0052\/6775\/0984\/products\/JB-BOXUVSterilizerBox_Black4.jpg?v=1596865633","width":1500},{"alt":"JB-BOX - Portable UV Light Sterilizer Box - Health Care - jabeesstore - jabeesstore","id":9114461798558,"position":5,"preview_image":{"aspect_ratio":1.0,"height":1500,"width":1500,"src":"https:\/\/cdn.shopify.com\/s\/files\/1\/0052\/6775\/0984\/products\/JB-BOXUVSterilizerBox_Black5.jpg?v=1596865633"},"aspect_ratio":1.0,"height":1500,"media_type":"image","src":"https:\/\/cdn.shopify.com\/s\/files\/1\/0052\/6775\/0984\/products\/JB-BOXUVSterilizerBox_Black5.jpg?v=1596865633","width":1500},{"alt":"JB-BOX - Portable UV Light Sterilizer Box - Health Care - jabeesstore - jabeesstore","id":9114461831326,"position":6,"preview_image":{"aspect_ratio":1.0,"height":1500,"width":1500,"src":"https:\/\/cdn.shopify.com\/s\/files\/1\/0052\/6775\/0984\/products\/JB-BOXUVSterilizerBox_Black6.jpg?v=1596865633"},"aspect_ratio":1.0,"height":1500,"media_type":"image","src":"https:\/\/cdn.shopify.com\/s\/files\/1\/0052\/6775\/0984\/products\/JB-BOXUVSterilizerBox_Black6.jpg?v=1596865633","width":1500},{"alt":"JB-BOX - Portable UV Light Sterilizer Box - Health Care - jabeesstore - jabeesstore","id":9114461864094,"position":7,"preview_image":{"aspect_ratio":1.0,"height":1500,"width":1500,"src":"https:\/\/cdn.shopify.com\/s\/files\/1\/0052\/6775\/0984\/products\/JB-BOXUVSterilizerBox_Black7.jpg?v=1596865633"},"aspect_ratio":1.0,"height":1500,"media_type":"image","src":"https:\/\/cdn.shopify.com\/s\/files\/1\/0052\/6775\/0984\/products\/JB-BOXUVSterilizerBox_Black7.jpg?v=1596865633","width":1500},{"alt":"JB-BOX - Portable UV Light Sterilizer Box - Health Care - jabeesstore - jabeesstore","id":9114461896862,"position":8,"preview_image":{"aspect_ratio":1.0,"height":1500,"width":1500,"src":"https:\/\/cdn.shopify.com\/s\/files\/1\/0052\/6775\/0984\/products\/JB-BOXUVSterilizerBox_White1.jpg?v=1596865633"},"aspect_ratio":1.0,"height":1500,"media_type":"image","src":"https:\/\/cdn.shopify.com\/s\/files\/1\/0052\/6775\/0984\/products\/JB-BOXUVSterilizerBox_White1.jpg?v=1596865633","width":1500},{"alt":"JB-BOX - Portable UV Light Sterilizer Box - Health Care - jabeesstore - jabeesstore","id":9114461929630,"position":9,"preview_image":{"aspect_ratio":1.0,"height":1500,"width":1500,"src":"https:\/\/cdn.shopify.com\/s\/files\/1\/0052\/6775\/0984\/products\/JB-BOXUVSterilizerBox_White2.jpg?v=1596865633"},"aspect_ratio":1.0,"height":1500,"media_type":"image","src":"https:\/\/cdn.shopify.com\/s\/files\/1\/0052\/6775\/0984\/products\/JB-BOXUVSterilizerBox_White2.jpg?v=1596865633","width":1500},{"alt":"JB-BOX - Portable UV Light Sterilizer Box - Health Care - jabeesstore - jabeesstore","id":9114461962398,"position":10,"preview_image":{"aspect_ratio":1.0,"height":1500,"width":1500,"src":"https:\/\/cdn.shopify.com\/s\/files\/1\/0052\/6775\/0984\/products\/JB-BOXUVSterilizerBox_White3.jpg?v=1596865633"},"aspect_ratio":1.0,"height":1500,"media_type":"image","src":"https:\/\/cdn.shopify.com\/s\/files\/1\/0052\/6775\/0984\/products\/JB-BOXUVSterilizerBox_White3.jpg?v=1596865633","width":1500},{"alt":"JB-BOX - Portable UV Light Sterilizer Box - Health Care - jabeesstore - jabeesstore","id":9114461995166,"position":11,"preview_image":{"aspect_ratio":1.0,"height":1500,"width":1500,"src":"https:\/\/cdn.shopify.com\/s\/files\/1\/0052\/6775\/0984\/products\/JB-BOXUVSterilizerBox_White4.jpg?v=1596865633"},"aspect_ratio":1.0,"height":1500,"media_type":"image","src":"https:\/\/cdn.shopify.com\/s\/files\/1\/0052\/6775\/0984\/products\/JB-BOXUVSterilizerBox_White4.jpg?v=1596865633","width":1500},{"alt":"JB-BOX - Portable UV Light Sterilizer Box - Health Care - jabeesstore - jabeesstore","id":9114462027934,"position":12,"preview_image":{"aspect_ratio":1.0,"height":1500,"width":1500,"src":"https:\/\/cdn.shopify.com\/s\/files\/1\/0052\/6775\/0984\/products\/JB-BOXUVSterilizerBox_White5.jpg?v=1596865633"},"aspect_ratio":1.0,"height":1500,"media_type":"image","src":"https:\/\/cdn.shopify.com\/s\/files\/1\/0052\/6775\/0984\/products\/JB-BOXUVSterilizerBox_White5.jpg?v=1596865633","width":1500},{"alt":"JB-BOX - Portable UV Light Sterilizer Box - Health Care - jabeesstore - jabeesstore","id":9114462060702,"position":13,"preview_image":{"aspect_ratio":1.0,"height":1500,"width":1500,"src":"https:\/\/cdn.shopify.com\/s\/files\/1\/0052\/6775\/0984\/products\/JB-BOXUVSterilizerBox_White6.jpg?v=1596865633"},"aspect_ratio":1.0,"height":1500,"media_type":"image","src":"https:\/\/cdn.shopify.com\/s\/files\/1\/0052\/6775\/0984\/products\/JB-BOXUVSterilizerBox_White6.jpg?v=1596865633","width":1500},{"alt":"JB-BOX - Portable UV Light Sterilizer Box - Health Care - jabeesstore - jabeesstore","id":9114462093470,"position":14,"preview_image":{"aspect_ratio":1.0,"height":1500,"width":1500,"src":"https:\/\/cdn.shopify.com\/s\/files\/1\/0052\/6775\/0984\/products\/JB-BOXUVSterilizerBox_White7.jpg?v=1596865633"},"aspect_ratio":1.0,"height":1500,"media_type":"image","src":"https:\/\/cdn.shopify.com\/s\/files\/1\/0052\/6775\/0984\/products\/JB-BOXUVSterilizerBox_White7.jpg?v=1596865633","width":1500}],"requires_selling_plan":false,"selling_plan_groups":[],"content":"\u003cdiv\u003eNo chemicals, heat, or water needed! JB-BOX is a portable UV Light Sterilizer Box. It can be used to sanitize jewelry, watches, wallets, and so on. The box uses six UV lights and eradicates up to 99.9% of germs in minutes.\u003c\/div\u003e\n\u003cdiv\u003e\u003c\/div\u003e\n\u003cdiv\u003e\n\u003cul\u003e\n\u003cli\u003eMULTIPURPOSE STERILIZER BOX - Our high-quality sterilizing box can be used for a wide variety of household items. It's a great way to clean your personal items such as makeup brushes, manicure set, scissors, hearing aids, cell phones and a lot of other accessories.\u003c\/li\u003e\n\u003cli\u003eCOMPACT AND EASY TO USE - It's a dry heat sterilizer machine with an interior measuring 7.28\"L x 4.13\"W x 0.59\"H. Perfect for mobile phone, cosmetic brush, manicure, shaver, daily necessities disinfection, etc. Simply open the lid, place your items in, and press the button once it's closed. All it takes is 5 minutes to complete a total uv disinfection cycle.\u003c\/li\u003e\n\u003cli\u003eSANITIZER WITHOUT CHEMICALS - This advanced cleaning method is the same one used by labs, restaurants and medical offices. It uses safe, invisible, reflective light to sanitize items from all corners.\u003c\/li\u003e\n\u003cli\u003eAROMA DIFFUSER - Add a droplet of liquid fragrance, diffuse pleasant scent for your items while sanitizing.\u003c\/li\u003e\n\u003cli\u003eHEALTH AND SAFETY FOR THE FAMILY- Our innovative sterilizer helps create a clean and sanitary environment for your family.\u003c\/li\u003e\n\u003c\/ul\u003e\n\u003c\/div\u003e"}
JB-BOX - Portable UV Light Sterilizer Box
JB-BOX - Portable UV Light Sterilizer Box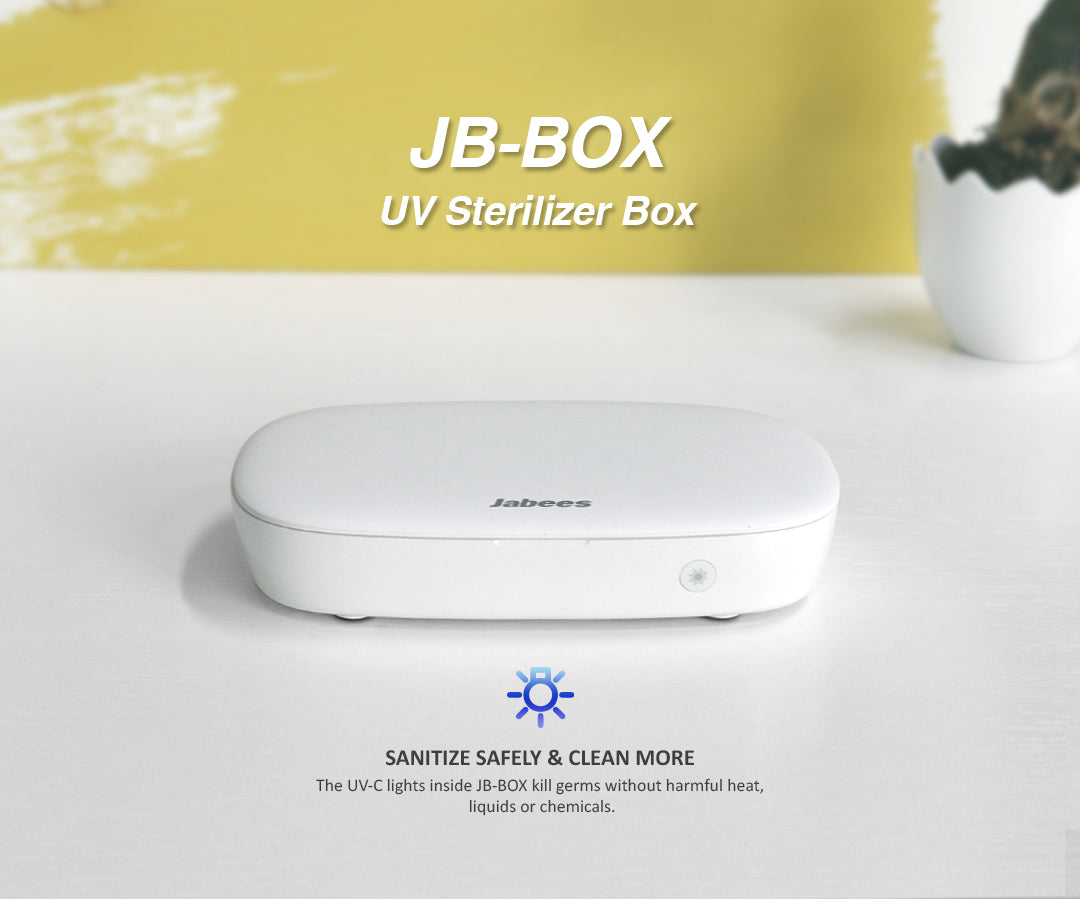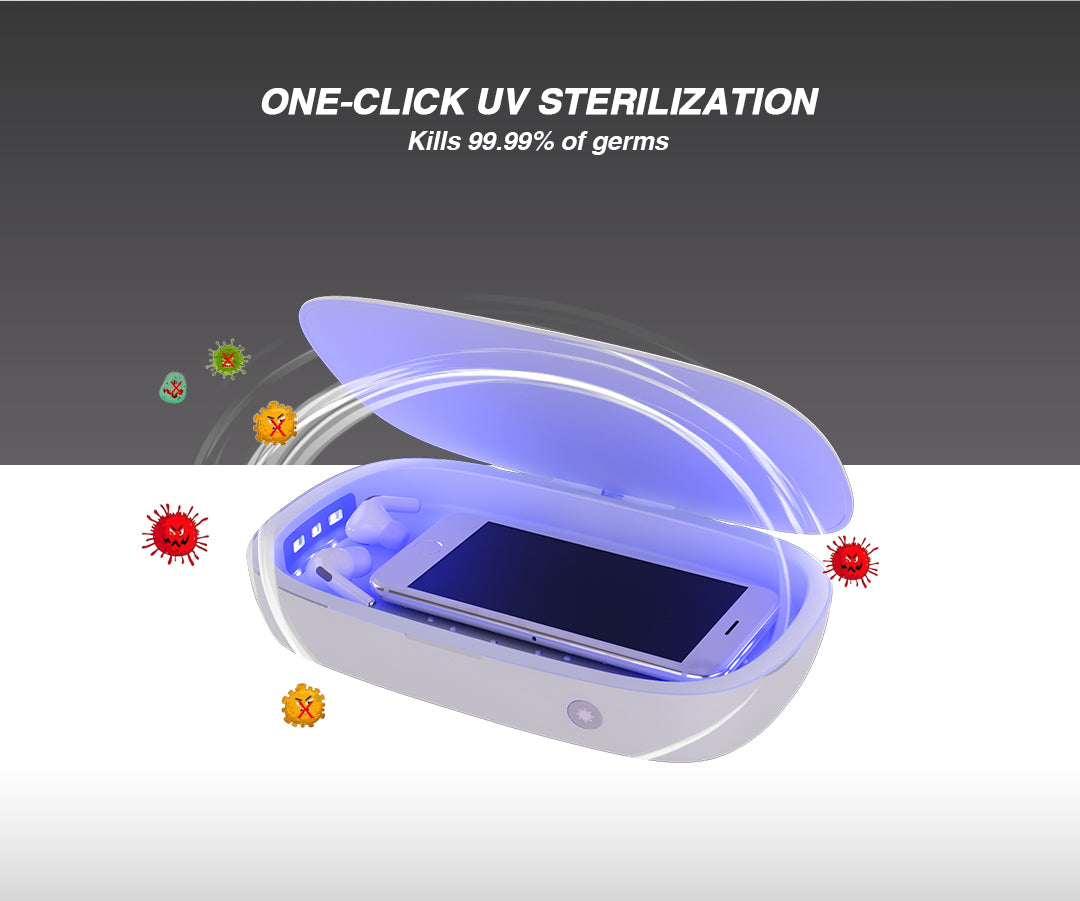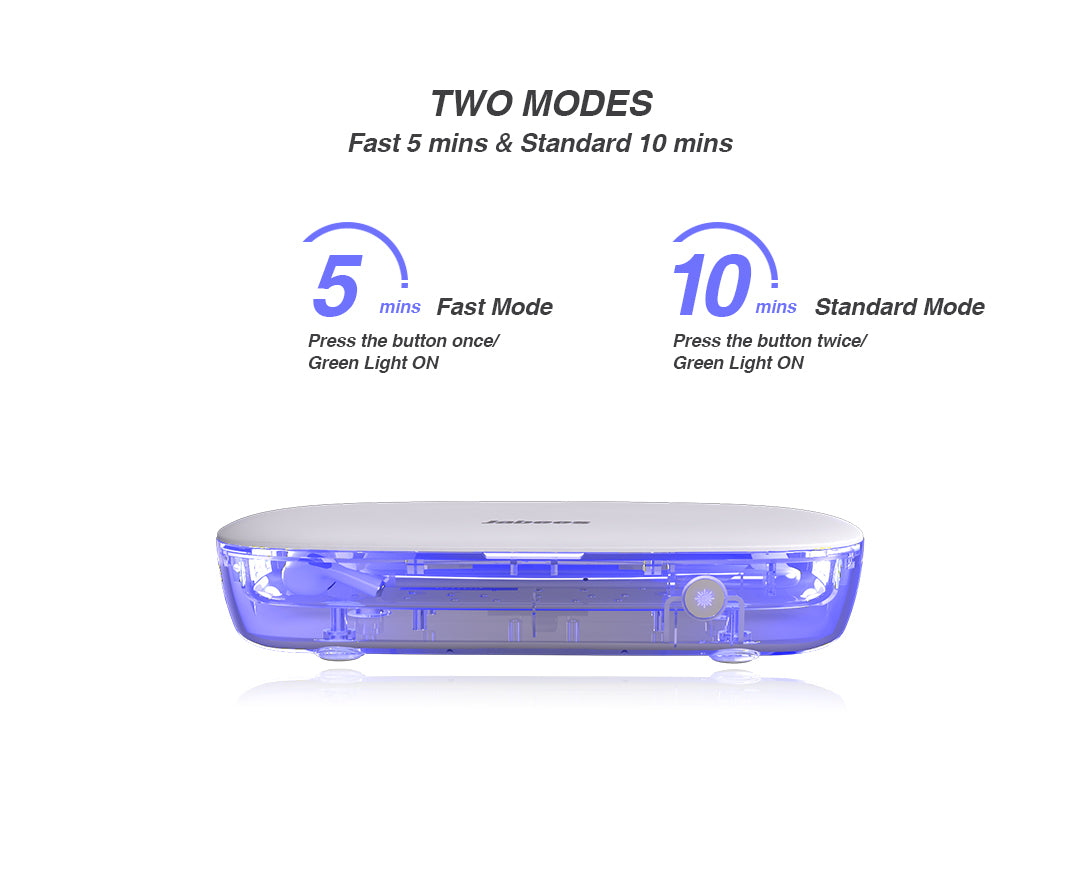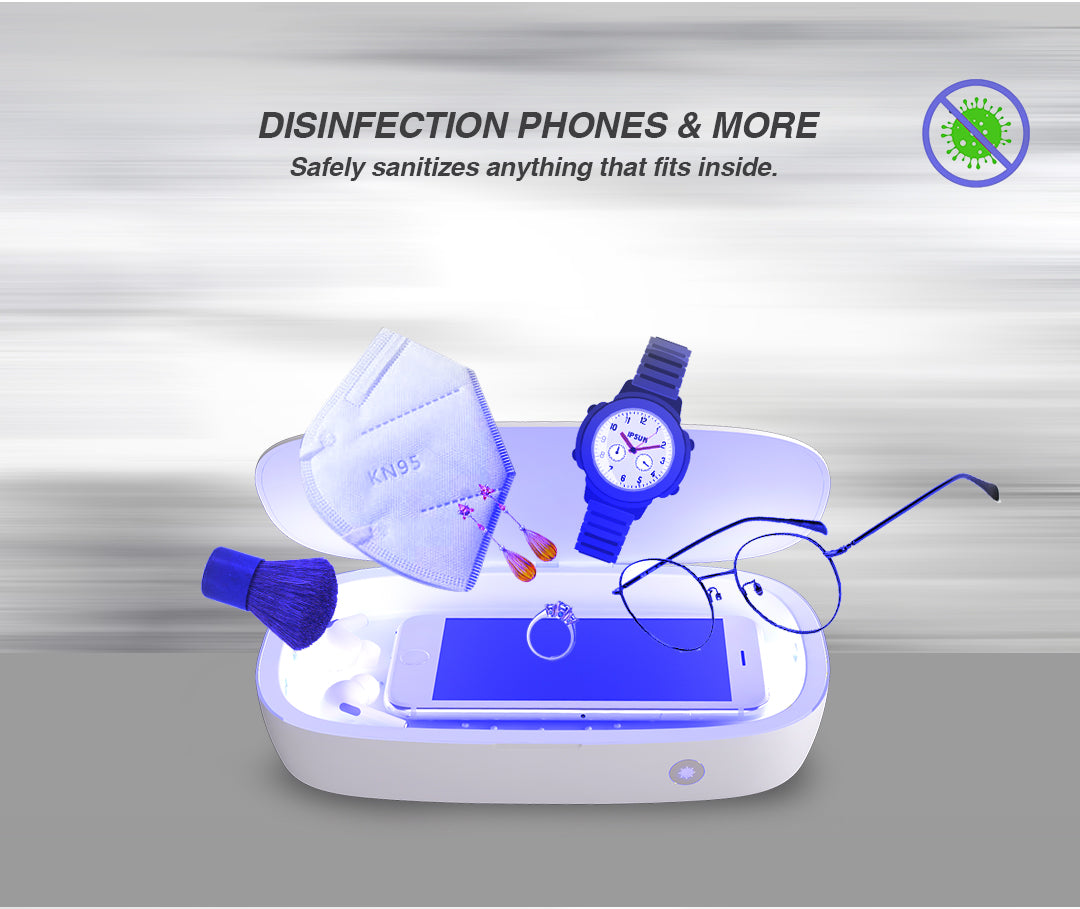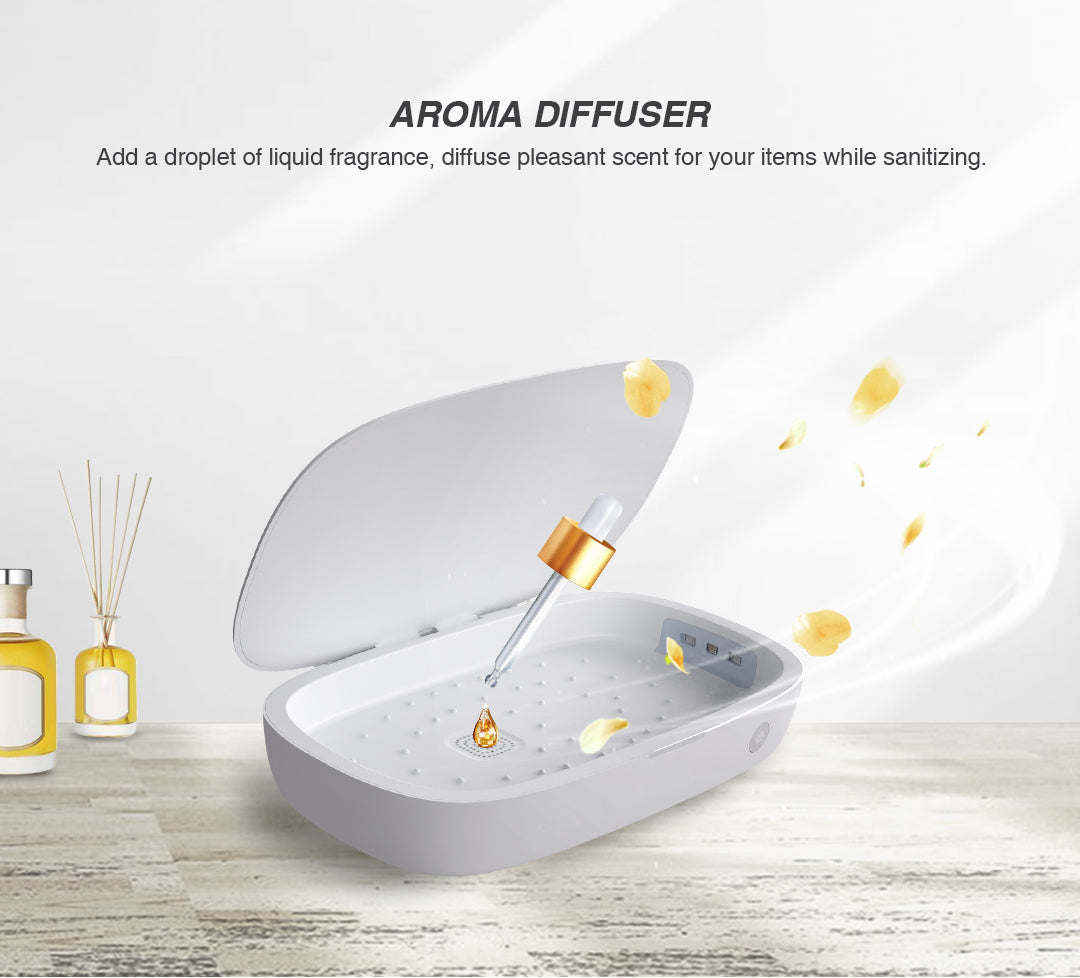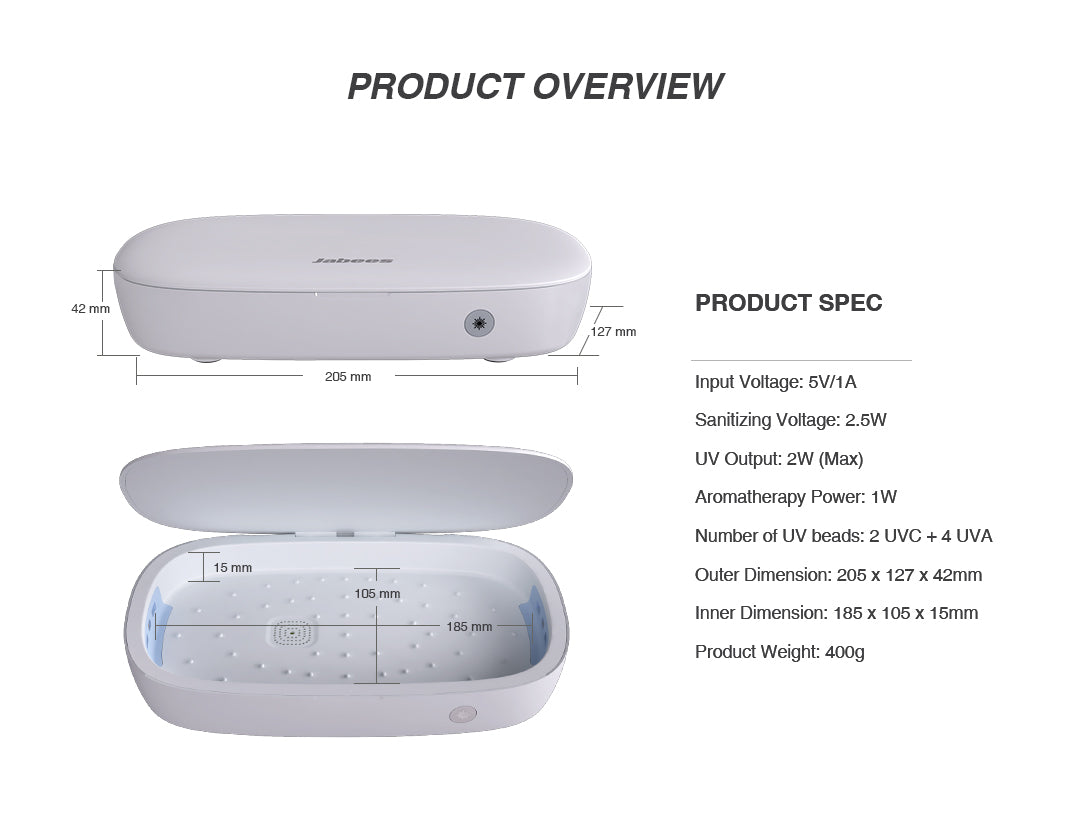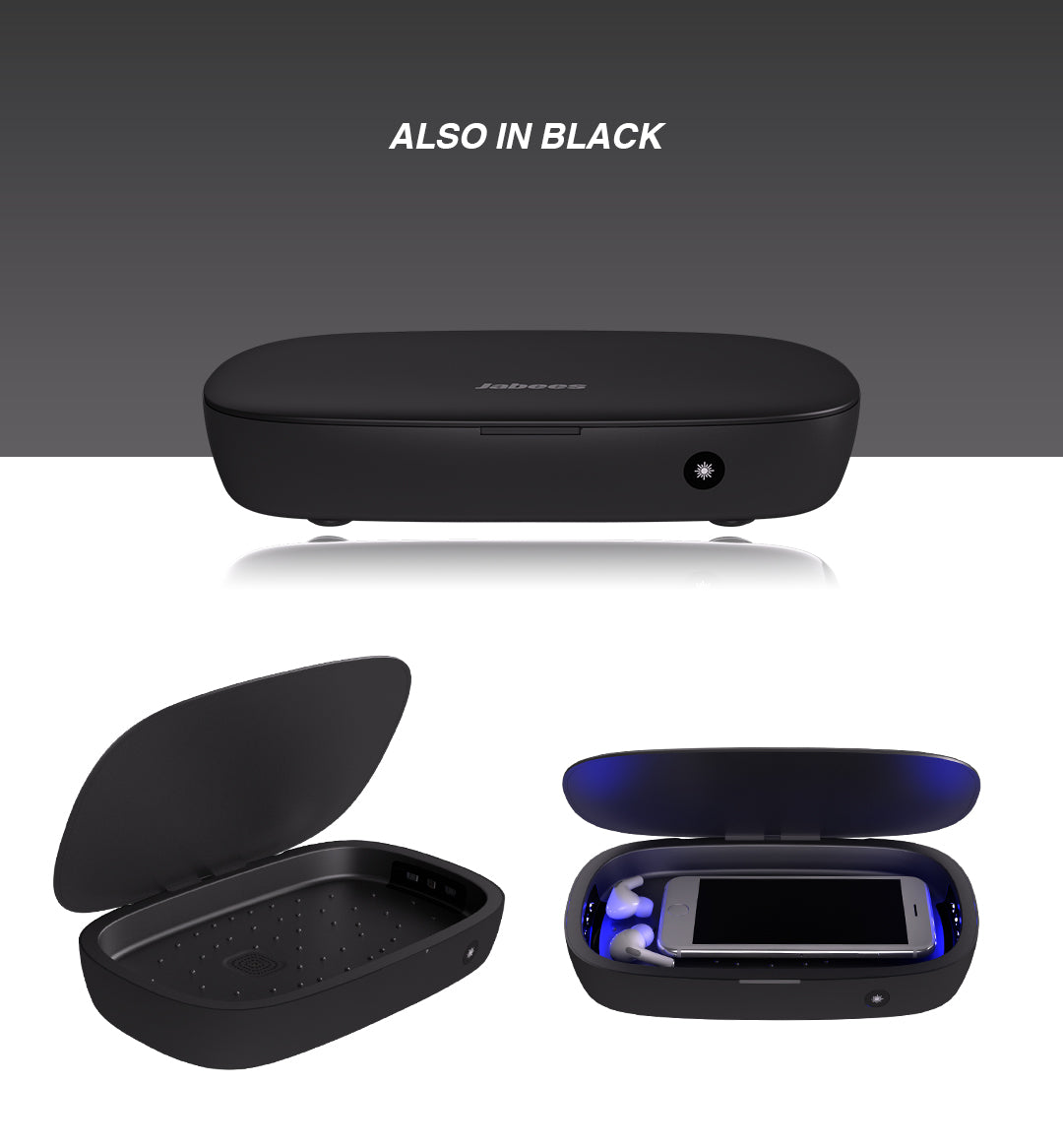 Features and benefits of Jabees JB-BOX UV STERILIZER BOX:
Input Voltage: 5V/1A

Sanitizing Voltage: 2.5W

UV Output: 2W (Max)

Aromatherapy Power: 1W

Number of UV beads: 2 UVC + 4 UVA

Outer Dimension: 205 x 127 x 42mm

Inner Dimension: 185 x 105 x 15mm

Product Weight: 330g

Certificate: CE
Included with each order:
1 x JB-BOX UV Sterilizer Box

1 x User Manual

1 x Micro USB Charging Cable for Charging
Attachments
Quick Reference Guide
Please click to download the User Guide of JB-BOX. Should you have any question or encounter any problem, feel free to write email to
support@jabees.com
. You will get our reply in 24 hours.