{"id":5413400051870,"title":"JB-WAND - The Handheld UV Sterilizer Wand to Disinfect Germs","handle":"jb-wand-the-handheld-uv-sterilizer-wand-to-disinfect-germs","description":"\u003cdiv\u003eJB-WAND is designed for household disinfection. It takes only several seconds to reach 99.9% disinfection. A nice choice to sanitize phones, toys, keyboards, laptops and toothbrushes, it can also sanitize pillow, clothes, bed stuff and others.\u003c\/div\u003e\n\u003cdiv\u003e\u003c\/div\u003e\n\u003cdiv\u003e\n\u003cul\u003e\n\u003cli\u003eOne-Click Sterilization\u003c\/li\u003e\n\u003cli\u003ePortable \u0026amp; Travel-ready\u003c\/li\u003e\n\u003cli\u003eOzone-Free\u003c\/li\u003e\n\u003cli\u003eAuto-Off Once Overturn\u003c\/li\u003e\n\u003c\/ul\u003e\n\u003c\/div\u003e","published_at":"2020-07-13T10:00:55+08:00","created_at":"2020-07-10T22:31:35+08:00","vendor":"Jabees Store","type":"Lifestyle","tags":[],"price":2999,"price_min":2999,"price_max":2999,"available":true,"price_varies":false,"compare_at_price":5999,"compare_at_price_min":5999,"compare_at_price_max":5999,"compare_at_price_varies":false,"variants":[{"id":35025661952158,"title":"Default Title","option1":"Default Title","option2":null,"option3":null,"sku":"31008PK","requires_shipping":true,"taxable":false,"featured_image":null,"available":true,"name":"JB-WAND - The Handheld UV Sterilizer Wand to Disinfect Germs","public_title":null,"options":["Default Title"],"price":2999,"weight":159,"compare_at_price":5999,"inventory_management":"shopify","barcode":"4897042103266","requires_selling_plan":false,"selling_plan_allocations":[]}],"images":["\/\/cdn.shopify.com\/s\/files\/1\/0052\/6775\/0984\/products\/HandheldUVSterilizerWandJB-WAND_1.jpg?v=1595346230","\/\/cdn.shopify.com\/s\/files\/1\/0052\/6775\/0984\/products\/HandheldUVSterilizerWandJB-WAND_2.jpg?v=1595346230","\/\/cdn.shopify.com\/s\/files\/1\/0052\/6775\/0984\/products\/HandheldUVSterilizerWandJB-WAND_3.jpg?v=1595346230","\/\/cdn.shopify.com\/s\/files\/1\/0052\/6775\/0984\/products\/HandheldUVSterilizerWandJB-WAND_4.jpg?v=1595346230","\/\/cdn.shopify.com\/s\/files\/1\/0052\/6775\/0984\/products\/HandheldUVSterilizerWandJB-WAND_5.jpg?v=1595346230","\/\/cdn.shopify.com\/s\/files\/1\/0052\/6775\/0984\/products\/HandheldUVSterilizerWandJB-WAND_6.jpg?v=1595346230","\/\/cdn.shopify.com\/s\/files\/1\/0052\/6775\/0984\/products\/HandheldUVSterilizerWandJB-WAND_7.jpg?v=1595346230"],"featured_image":"\/\/cdn.shopify.com\/s\/files\/1\/0052\/6775\/0984\/products\/HandheldUVSterilizerWandJB-WAND_1.jpg?v=1595346230","options":["Title"],"media":[{"alt":"JB-WAND - The Handheld UV Sterilizer Wand to Disinfect Germs - Health Care - Jabees Store - jabeesstore","id":10174164500638,"position":1,"preview_image":{"aspect_ratio":1.0,"height":1500,"width":1500,"src":"https:\/\/cdn.shopify.com\/s\/files\/1\/0052\/6775\/0984\/products\/HandheldUVSterilizerWandJB-WAND_1.jpg?v=1595346230"},"aspect_ratio":1.0,"height":1500,"media_type":"image","src":"https:\/\/cdn.shopify.com\/s\/files\/1\/0052\/6775\/0984\/products\/HandheldUVSterilizerWandJB-WAND_1.jpg?v=1595346230","width":1500},{"alt":"JB-WAND - The Handheld UV Sterilizer Wand to Disinfect Germs - Health Care - Jabees Store - jabeesstore","id":10174164533406,"position":2,"preview_image":{"aspect_ratio":1.0,"height":1500,"width":1500,"src":"https:\/\/cdn.shopify.com\/s\/files\/1\/0052\/6775\/0984\/products\/HandheldUVSterilizerWandJB-WAND_2.jpg?v=1595346230"},"aspect_ratio":1.0,"height":1500,"media_type":"image","src":"https:\/\/cdn.shopify.com\/s\/files\/1\/0052\/6775\/0984\/products\/HandheldUVSterilizerWandJB-WAND_2.jpg?v=1595346230","width":1500},{"alt":"JB-WAND - The Handheld UV Sterilizer Wand to Disinfect Germs - Health Care - Jabees Store - jabeesstore","id":10174164566174,"position":3,"preview_image":{"aspect_ratio":1.0,"height":1500,"width":1500,"src":"https:\/\/cdn.shopify.com\/s\/files\/1\/0052\/6775\/0984\/products\/HandheldUVSterilizerWandJB-WAND_3.jpg?v=1595346230"},"aspect_ratio":1.0,"height":1500,"media_type":"image","src":"https:\/\/cdn.shopify.com\/s\/files\/1\/0052\/6775\/0984\/products\/HandheldUVSterilizerWandJB-WAND_3.jpg?v=1595346230","width":1500},{"alt":"JB-WAND - The Handheld UV Sterilizer Wand to Disinfect Germs - Health Care - Jabees Store - jabeesstore","id":10174164598942,"position":4,"preview_image":{"aspect_ratio":1.0,"height":1500,"width":1500,"src":"https:\/\/cdn.shopify.com\/s\/files\/1\/0052\/6775\/0984\/products\/HandheldUVSterilizerWandJB-WAND_4.jpg?v=1595346230"},"aspect_ratio":1.0,"height":1500,"media_type":"image","src":"https:\/\/cdn.shopify.com\/s\/files\/1\/0052\/6775\/0984\/products\/HandheldUVSterilizerWandJB-WAND_4.jpg?v=1595346230","width":1500},{"alt":"JB-WAND - The Handheld UV Sterilizer Wand to Disinfect Germs - Health Care - Jabees Store - jabeesstore","id":10174164631710,"position":5,"preview_image":{"aspect_ratio":1.0,"height":1500,"width":1500,"src":"https:\/\/cdn.shopify.com\/s\/files\/1\/0052\/6775\/0984\/products\/HandheldUVSterilizerWandJB-WAND_5.jpg?v=1595346230"},"aspect_ratio":1.0,"height":1500,"media_type":"image","src":"https:\/\/cdn.shopify.com\/s\/files\/1\/0052\/6775\/0984\/products\/HandheldUVSterilizerWandJB-WAND_5.jpg?v=1595346230","width":1500},{"alt":"JB-WAND - The Handheld UV Sterilizer Wand to Disinfect Germs - Health Care - Jabees Store - jabeesstore","id":10174164664478,"position":6,"preview_image":{"aspect_ratio":1.0,"height":1500,"width":1500,"src":"https:\/\/cdn.shopify.com\/s\/files\/1\/0052\/6775\/0984\/products\/HandheldUVSterilizerWandJB-WAND_6.jpg?v=1595346230"},"aspect_ratio":1.0,"height":1500,"media_type":"image","src":"https:\/\/cdn.shopify.com\/s\/files\/1\/0052\/6775\/0984\/products\/HandheldUVSterilizerWandJB-WAND_6.jpg?v=1595346230","width":1500},{"alt":"JB-WAND - The Handheld UV Sterilizer Wand to Disinfect Germs - Health Care - Jabees Store - jabeesstore","id":10174164697246,"position":7,"preview_image":{"aspect_ratio":1.0,"height":1500,"width":1500,"src":"https:\/\/cdn.shopify.com\/s\/files\/1\/0052\/6775\/0984\/products\/HandheldUVSterilizerWandJB-WAND_7.jpg?v=1595346230"},"aspect_ratio":1.0,"height":1500,"media_type":"image","src":"https:\/\/cdn.shopify.com\/s\/files\/1\/0052\/6775\/0984\/products\/HandheldUVSterilizerWandJB-WAND_7.jpg?v=1595346230","width":1500}],"requires_selling_plan":false,"selling_plan_groups":[],"content":"\u003cdiv\u003eJB-WAND is designed for household disinfection. It takes only several seconds to reach 99.9% disinfection. A nice choice to sanitize phones, toys, keyboards, laptops and toothbrushes, it can also sanitize pillow, clothes, bed stuff and others.\u003c\/div\u003e\n\u003cdiv\u003e\u003c\/div\u003e\n\u003cdiv\u003e\n\u003cul\u003e\n\u003cli\u003eOne-Click Sterilization\u003c\/li\u003e\n\u003cli\u003ePortable \u0026amp; Travel-ready\u003c\/li\u003e\n\u003cli\u003eOzone-Free\u003c\/li\u003e\n\u003cli\u003eAuto-Off Once Overturn\u003c\/li\u003e\n\u003c\/ul\u003e\n\u003c\/div\u003e"}
JB-WAND - The Handheld UV Sterilizer Wand to Disinfect Germs
JB-WAND - The Handheld UV Sterilizer Wand to Disinfect Germs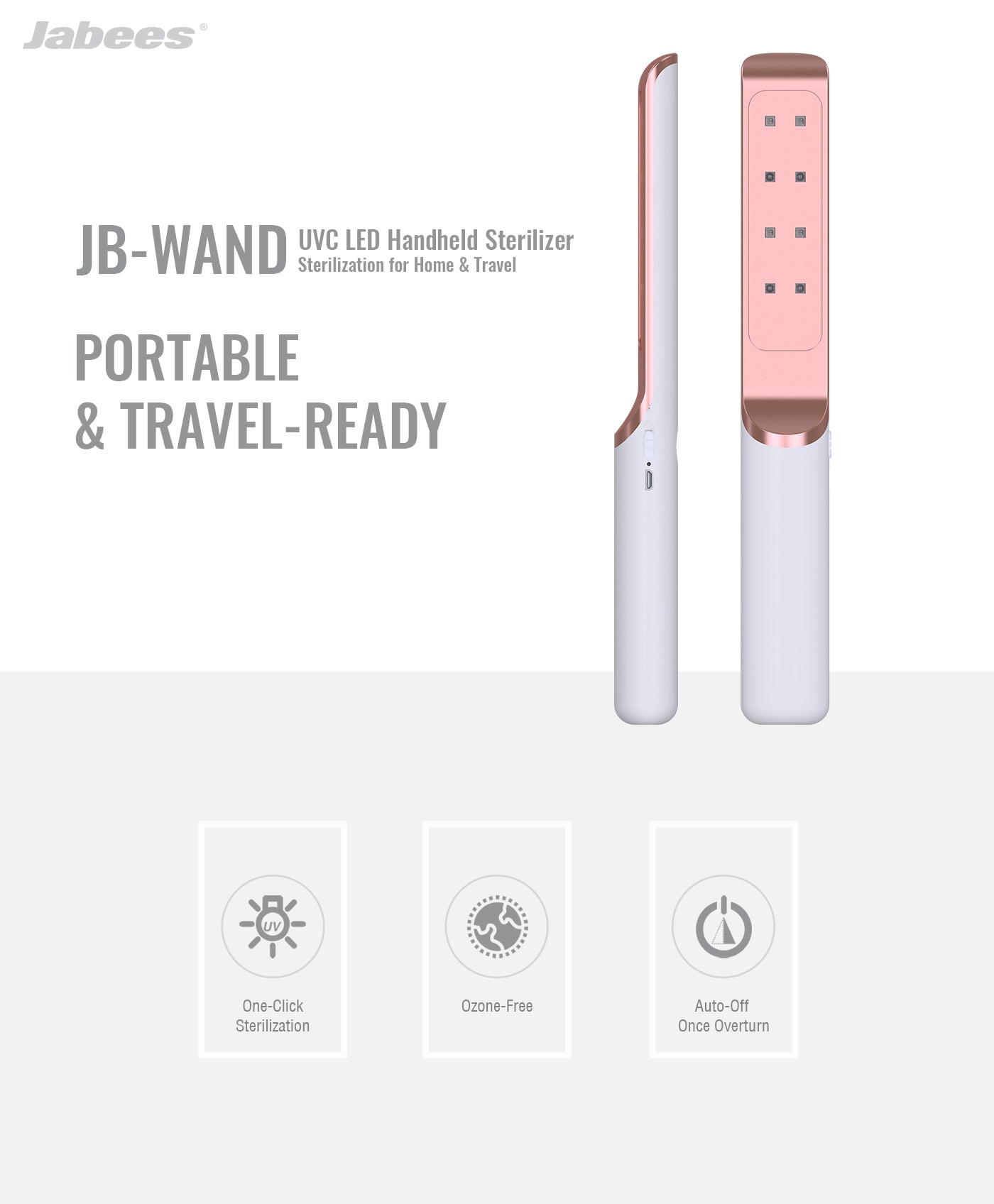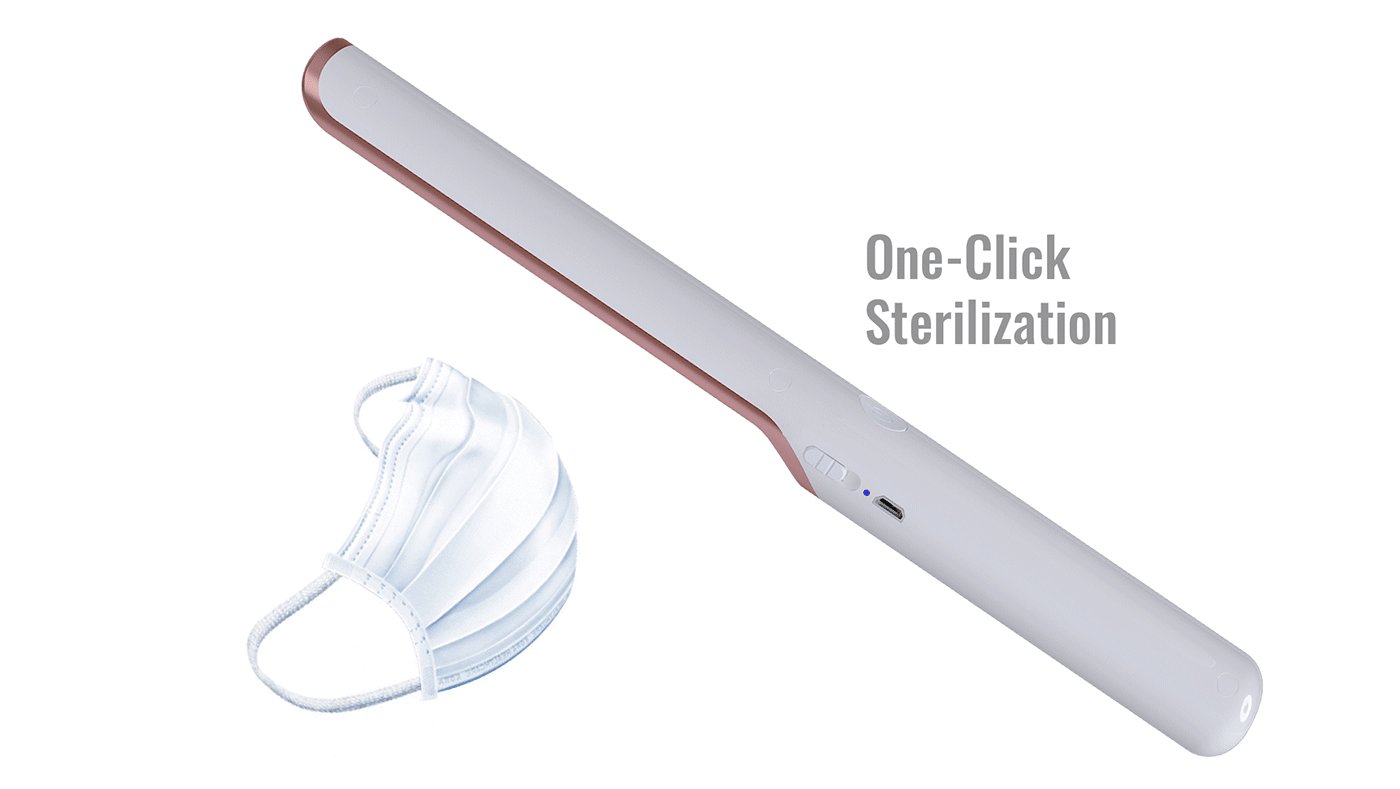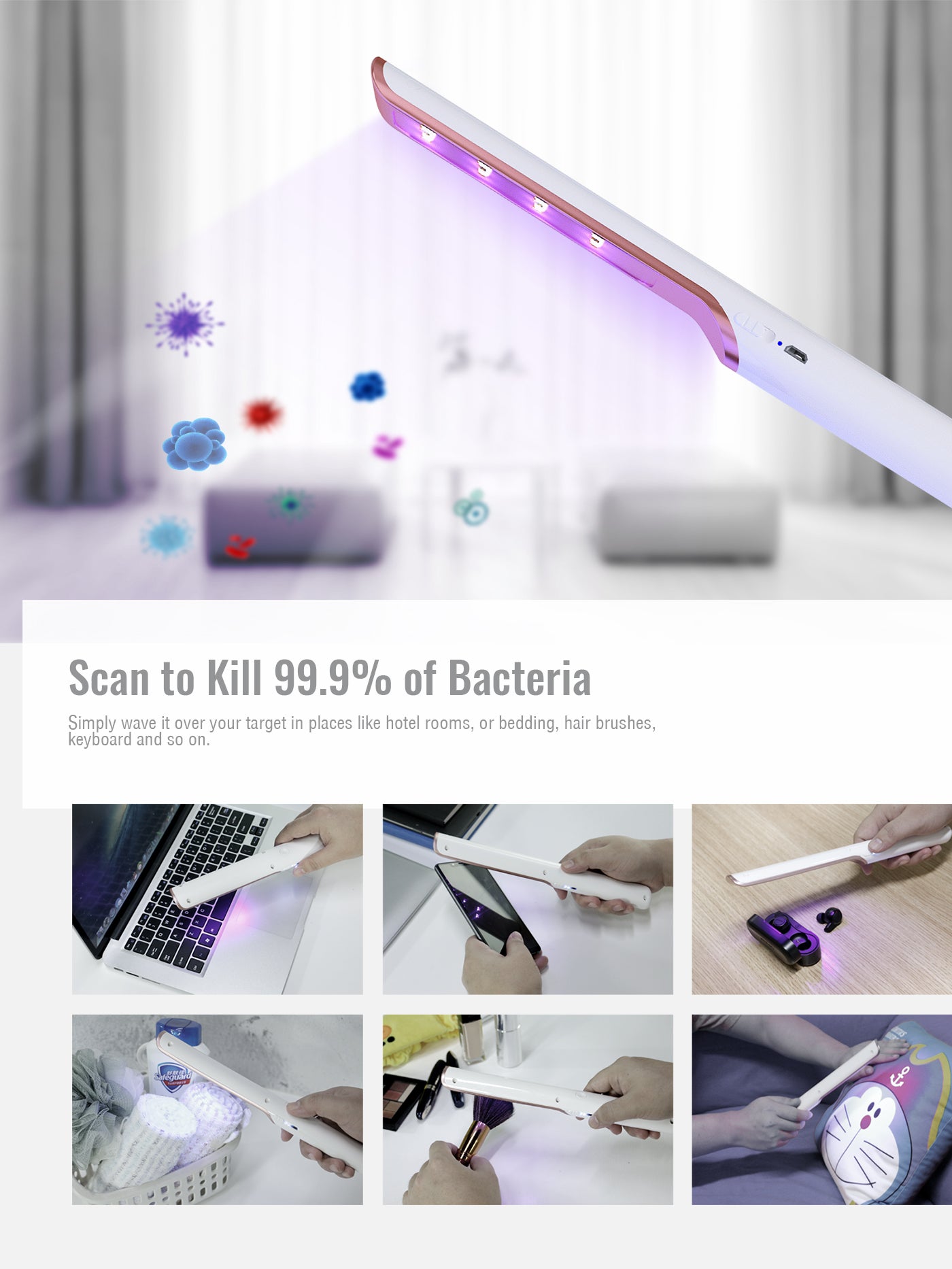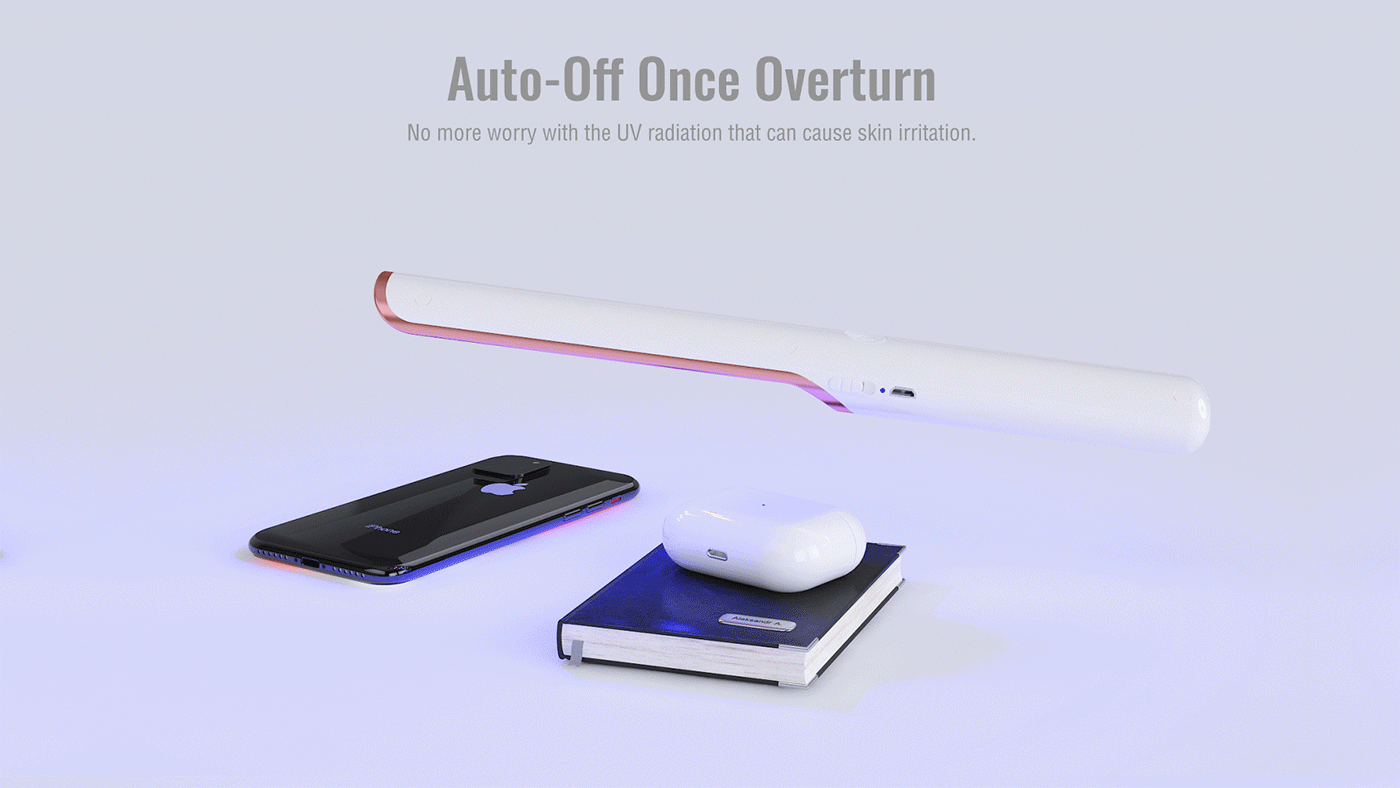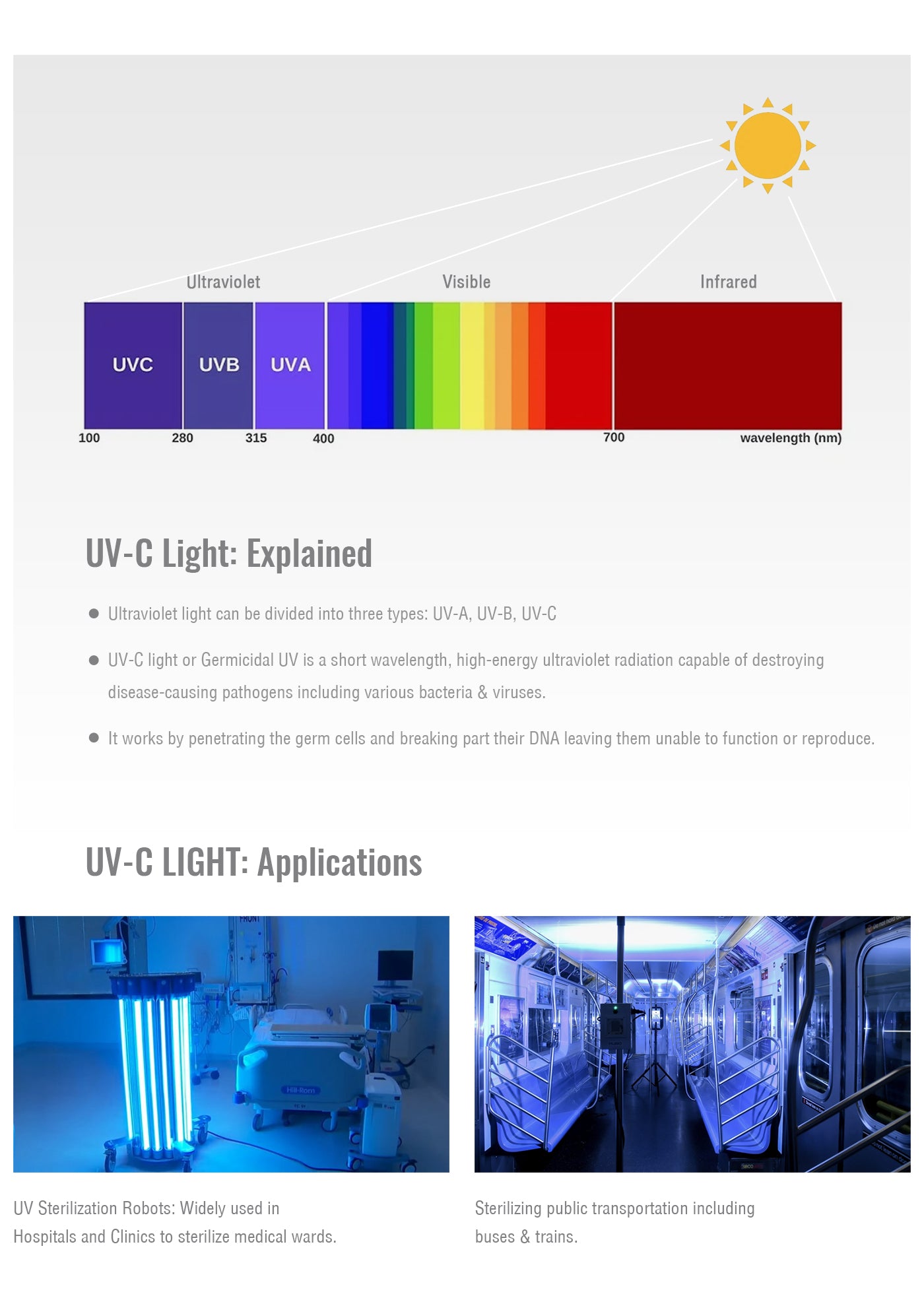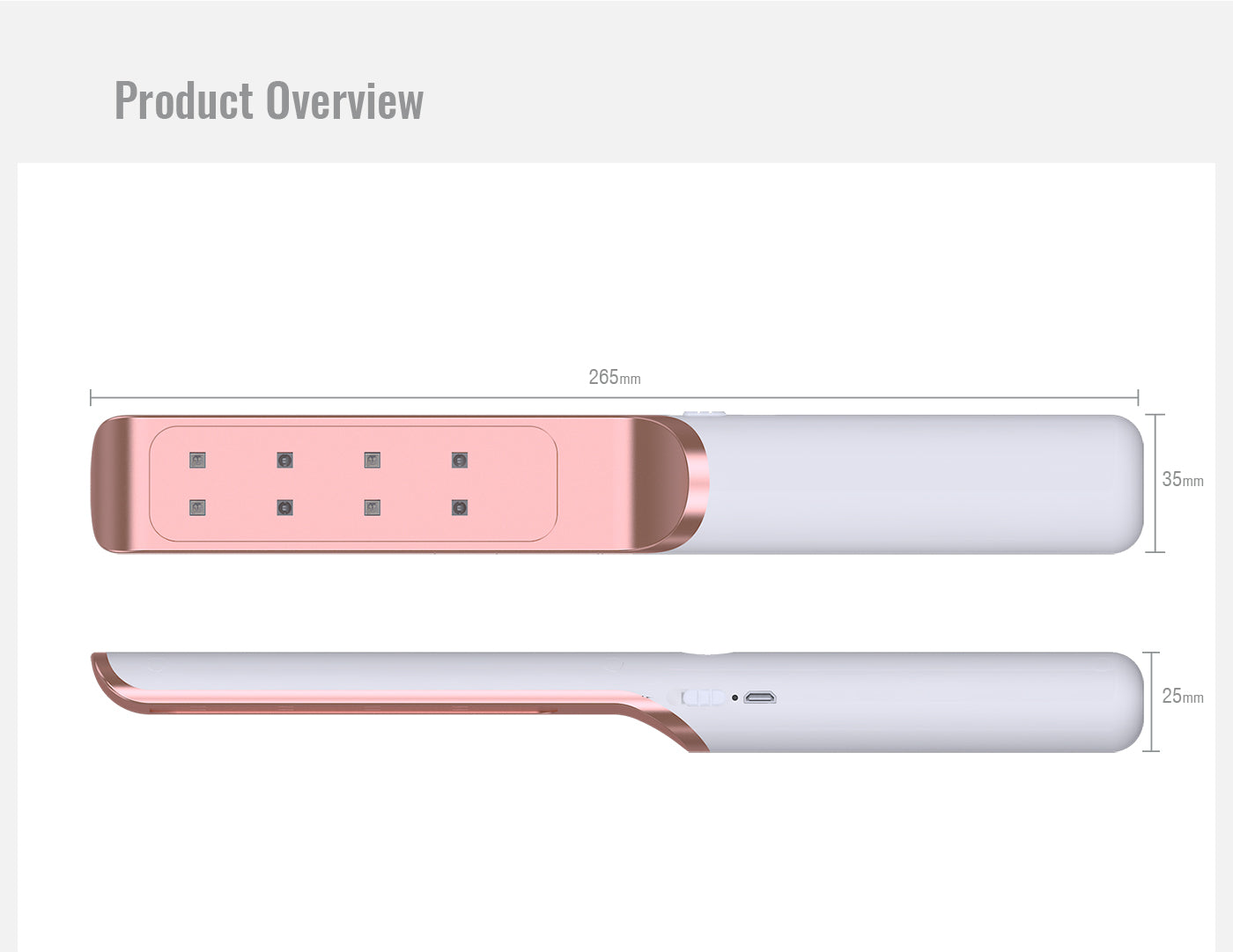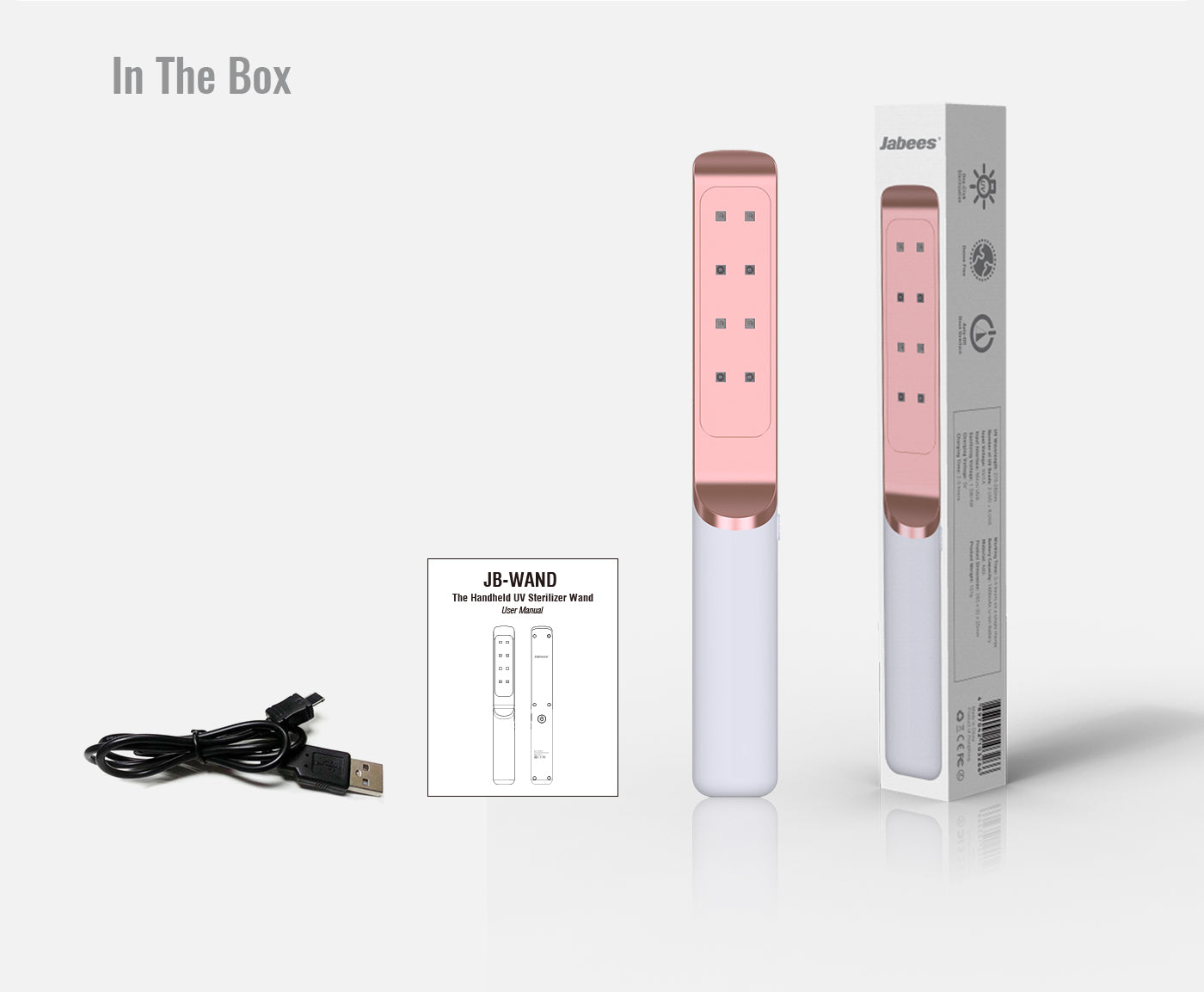 Features and benefits of Handheld UV Sterilizer Wand JB-WAND by Jabees:
UV Wavelength: 270-280nm
Number of UV Beads: 2 UVC + 6 UVA
Input Voltage: 5V/1A
Input Interface: Micro USB
Sanitizing Voltage: 1.5W/4W
Charging Voltage: 5V
Charging Time: 4.5-5 hours
Working Time: 3-4 hours on a single charge
Battery Capacity: 2000mAh Li-ion Battery
Material: ABS
Product Dimension: 265 x 35 x 25mm
Product Weight: 101g
Accessories Included with each order:
1 X USB Charging Cable
1 x User Manual
Attachments
Quick Reference Guide
Please click to download the User Guide of JB-WAND. Should you have any question or encounter any problem, feel free to write email to
support@jabees.com
. You will get our reply in 24 hours.