{"id":5413152227486,"title":"SERENITY - Bluetooth Sleep Eye Mask Headphones","handle":"serenity-bluetooth-sleep-eye-mask-headphones","description":"\u003cp\u003eSERENITY is a 2 in 1 Bluetooth V5.0 sleep mask headphones. It is not only a Bluetooth headphone that you can use to listen to music, but also a Contoured Design Eye Mask that can help and improve your sleep quality!\u003c\/p\u003e\n\u003cul\u003e\n\u003cul\u003e\n\u003cli\u003e\u003cspan\u003e\u003cstrong\u003eLosing out on sleep? We can help.\u003c\/strong\u003e - Introducing Serenity. It is a Bluetooth sleeping eye mask designed to help you sleep better. Our eye mask blocks out excess sound and light to improve your sleeping environment. On top of this, choosing your own music gives you a head start on relaxation, especially if you've had a stressful day. We feel that Serenity will help take care of those worries for you, so you can get to sleep right away.\u003c\/span\u003e\u003c\/li\u003e\n\u003cli\u003e\u003cspan\u003e\u003cstrong\u003eWireless Music On Demand\u003c\/strong\u003e - Bluetooth 5.0 delivers sound without the fuss of wires. Go beyond just blocking noise: Replace it with something you'd rather listen to. We recommend relaxing soundscapes or ASMR.\u003c\/span\u003e\u003c\/li\u003e\n\u003cli\u003e\n\u003cstrong\u003eLight-Blocking Coverage \u003c\/strong\u003e- \u003cspan data-mce-fragment=\"1\"\u003eYou can now sleep anywhere, even without blackout curtains. The contoured mask snugly covers all gaps, even at the nose area, and completely blocks out all light.\u003c\/span\u003e\n\u003c\/li\u003e\n\u003cli\u003e\u003cspan data-mce-fragment=\"1\"\u003e\u003cstrong\u003eUnbeatable Comfort \u003c\/strong\u003e - Soft memory foam cradles the face and the delicate eye area. On the other side, plush fabric stays soft and smooth. This reduced pressure on the eyes and makes it stand out from the competition. Sleeping well should feel luxurious too.\u003c\/span\u003e\u003c\/li\u003e\n\u003cli\u003e\n\u003cstrong\u003eHygienic and Washable \u003c\/strong\u003e- \u003cspan data-mce-fragment=\"1\"\u003eOn top of everything, SERENITY is so easy to keep clean. To clean, simply remove the earplugs and Bluetooth module from the eye mask, hand-wash it with a skin-friendly detergent, and hang dry. Now, it's clean and ready for your next snooze.\u003c\/span\u003e\n\u003c\/li\u003e\n\u003c\/ul\u003e\n\u003c\/ul\u003e","published_at":"2020-07-10T21:11:23+08:00","created_at":"2020-07-10T21:11:22+08:00","vendor":"Jabees Store","type":"Wireless Audio,Sleep Gadgets","tags":[],"price":3999,"price_min":3999,"price_max":3999,"available":true,"price_varies":false,"compare_at_price":5999,"compare_at_price_min":5999,"compare_at_price_max":5999,"compare_at_price_varies":false,"variants":[{"id":35025029202078,"title":"Default Title","option1":"Default Title","option2":null,"option3":null,"sku":"12036BK","requires_shipping":true,"taxable":false,"featured_image":null,"available":true,"name":"SERENITY - Bluetooth Sleep Eye Mask Headphones","public_title":null,"options":["Default Title"],"price":3999,"weight":78,"compare_at_price":5999,"inventory_management":"shopify","barcode":"4897042103204","requires_selling_plan":false,"selling_plan_allocations":[]}],"images":["\/\/cdn.shopify.com\/s\/files\/1\/0052\/6775\/0984\/products\/12036-amazon-1.jpg?v=1597141604","\/\/cdn.shopify.com\/s\/files\/1\/0052\/6775\/0984\/products\/BluetoothSleepEyeMaskHeadphones_2.jpg?v=1597141604","\/\/cdn.shopify.com\/s\/files\/1\/0052\/6775\/0984\/products\/BluetoothSleepEyeMaskHeadphones_4.jpg?v=1597141604","\/\/cdn.shopify.com\/s\/files\/1\/0052\/6775\/0984\/products\/BluetoothSleepEyeMaskHeadphones_3.jpg?v=1597141604","\/\/cdn.shopify.com\/s\/files\/1\/0052\/6775\/0984\/products\/12036-amazon-6.jpg?v=1597141604","\/\/cdn.shopify.com\/s\/files\/1\/0052\/6775\/0984\/products\/BluetoothSleepEyeMaskHeadphones_6.jpg?v=1597141604","\/\/cdn.shopify.com\/s\/files\/1\/0052\/6775\/0984\/products\/BluetoothSleepEyeMaskHeadphones_7.jpg?v=1597141604","\/\/cdn.shopify.com\/s\/files\/1\/0052\/6775\/0984\/products\/BluetoothSleepEyeMaskHeadphones_8.jpg?v=1597155876"],"featured_image":"\/\/cdn.shopify.com\/s\/files\/1\/0052\/6775\/0984\/products\/12036-amazon-1.jpg?v=1597141604","options":["Title"],"media":[{"alt":"SERENITY - Bluetooth Sleep Eye Mask Headphones - Health Care, Bluetooth Earphones - Jabees Store - jabeesstore","id":10099313803422,"position":1,"preview_image":{"aspect_ratio":1.0,"height":1500,"width":1500,"src":"https:\/\/cdn.shopify.com\/s\/files\/1\/0052\/6775\/0984\/products\/12036-amazon-1.jpg?v=1597141604"},"aspect_ratio":1.0,"height":1500,"media_type":"image","src":"https:\/\/cdn.shopify.com\/s\/files\/1\/0052\/6775\/0984\/products\/12036-amazon-1.jpg?v=1597141604","width":1500},{"alt":"SERENITY - Bluetooth Sleep Eye Mask Headphones - Health Care, Bluetooth Earphones - Jabees Store - jabeesstore","id":10007759585438,"position":2,"preview_image":{"aspect_ratio":1.0,"height":1500,"width":1500,"src":"https:\/\/cdn.shopify.com\/s\/files\/1\/0052\/6775\/0984\/products\/BluetoothSleepEyeMaskHeadphones_2.jpg?v=1597141604"},"aspect_ratio":1.0,"height":1500,"media_type":"image","src":"https:\/\/cdn.shopify.com\/s\/files\/1\/0052\/6775\/0984\/products\/BluetoothSleepEyeMaskHeadphones_2.jpg?v=1597141604","width":1500},{"alt":"SERENITY - Bluetooth Sleep Eye Mask Headphones - Health Care, Bluetooth Earphones - Jabees Store - jabeesstore","id":10007761125534,"position":3,"preview_image":{"aspect_ratio":1.0,"height":1500,"width":1500,"src":"https:\/\/cdn.shopify.com\/s\/files\/1\/0052\/6775\/0984\/products\/BluetoothSleepEyeMaskHeadphones_4.jpg?v=1597141604"},"aspect_ratio":1.0,"height":1500,"media_type":"image","src":"https:\/\/cdn.shopify.com\/s\/files\/1\/0052\/6775\/0984\/products\/BluetoothSleepEyeMaskHeadphones_4.jpg?v=1597141604","width":1500},{"alt":"SERENITY - Bluetooth Sleep Eye Mask Headphones - Health Care, Bluetooth Earphones - Jabees Store - jabeesstore","id":10007761158302,"position":4,"preview_image":{"aspect_ratio":1.0,"height":1500,"width":1500,"src":"https:\/\/cdn.shopify.com\/s\/files\/1\/0052\/6775\/0984\/products\/BluetoothSleepEyeMaskHeadphones_3.jpg?v=1597141604"},"aspect_ratio":1.0,"height":1500,"media_type":"image","src":"https:\/\/cdn.shopify.com\/s\/files\/1\/0052\/6775\/0984\/products\/BluetoothSleepEyeMaskHeadphones_3.jpg?v=1597141604","width":1500},{"alt":"SERENITY - Bluetooth Sleep Eye Mask Headphones - Health Care, Bluetooth Earphones - Jabees Store - jabeesstore","id":10121646833822,"position":5,"preview_image":{"aspect_ratio":1.0,"height":1500,"width":1500,"src":"https:\/\/cdn.shopify.com\/s\/files\/1\/0052\/6775\/0984\/products\/12036-amazon-6.jpg?v=1597141604"},"aspect_ratio":1.0,"height":1500,"media_type":"image","src":"https:\/\/cdn.shopify.com\/s\/files\/1\/0052\/6775\/0984\/products\/12036-amazon-6.jpg?v=1597141604","width":1500},{"alt":"SERENITY - Bluetooth Sleep Eye Mask Headphones - Health Care, Bluetooth Earphones - Jabees Store - jabeesstore","id":10007763550366,"position":6,"preview_image":{"aspect_ratio":1.0,"height":1500,"width":1500,"src":"https:\/\/cdn.shopify.com\/s\/files\/1\/0052\/6775\/0984\/products\/BluetoothSleepEyeMaskHeadphones_6.jpg?v=1597141604"},"aspect_ratio":1.0,"height":1500,"media_type":"image","src":"https:\/\/cdn.shopify.com\/s\/files\/1\/0052\/6775\/0984\/products\/BluetoothSleepEyeMaskHeadphones_6.jpg?v=1597141604","width":1500},{"alt":"SERENITY - Bluetooth Sleep Eye Mask Headphones - Health Care, Bluetooth Earphones - Jabees Store - jabeesstore","id":10007763943582,"position":7,"preview_image":{"aspect_ratio":1.0,"height":1500,"width":1500,"src":"https:\/\/cdn.shopify.com\/s\/files\/1\/0052\/6775\/0984\/products\/BluetoothSleepEyeMaskHeadphones_7.jpg?v=1597141604"},"aspect_ratio":1.0,"height":1500,"media_type":"image","src":"https:\/\/cdn.shopify.com\/s\/files\/1\/0052\/6775\/0984\/products\/BluetoothSleepEyeMaskHeadphones_7.jpg?v=1597141604","width":1500},{"alt":"SERENITY - Bluetooth Sleep Eye Mask Headphones - Health Care, Bluetooth Earphones - Jabees Store - jabeesstore","id":10575610904734,"position":8,"preview_image":{"aspect_ratio":1.0,"height":1500,"width":1500,"src":"https:\/\/cdn.shopify.com\/s\/files\/1\/0052\/6775\/0984\/products\/BluetoothSleepEyeMaskHeadphones_8.jpg?v=1597155876"},"aspect_ratio":1.0,"height":1500,"media_type":"image","src":"https:\/\/cdn.shopify.com\/s\/files\/1\/0052\/6775\/0984\/products\/BluetoothSleepEyeMaskHeadphones_8.jpg?v=1597155876","width":1500}],"requires_selling_plan":false,"selling_plan_groups":[],"content":"\u003cp\u003eSERENITY is a 2 in 1 Bluetooth V5.0 sleep mask headphones. It is not only a Bluetooth headphone that you can use to listen to music, but also a Contoured Design Eye Mask that can help and improve your sleep quality!\u003c\/p\u003e\n\u003cul\u003e\n\u003cul\u003e\n\u003cli\u003e\u003cspan\u003e\u003cstrong\u003eLosing out on sleep? We can help.\u003c\/strong\u003e - Introducing Serenity. It is a Bluetooth sleeping eye mask designed to help you sleep better. Our eye mask blocks out excess sound and light to improve your sleeping environment. On top of this, choosing your own music gives you a head start on relaxation, especially if you've had a stressful day. We feel that Serenity will help take care of those worries for you, so you can get to sleep right away.\u003c\/span\u003e\u003c\/li\u003e\n\u003cli\u003e\u003cspan\u003e\u003cstrong\u003eWireless Music On Demand\u003c\/strong\u003e - Bluetooth 5.0 delivers sound without the fuss of wires. Go beyond just blocking noise: Replace it with something you'd rather listen to. We recommend relaxing soundscapes or ASMR.\u003c\/span\u003e\u003c\/li\u003e\n\u003cli\u003e\n\u003cstrong\u003eLight-Blocking Coverage \u003c\/strong\u003e- \u003cspan data-mce-fragment=\"1\"\u003eYou can now sleep anywhere, even without blackout curtains. The contoured mask snugly covers all gaps, even at the nose area, and completely blocks out all light.\u003c\/span\u003e\n\u003c\/li\u003e\n\u003cli\u003e\u003cspan data-mce-fragment=\"1\"\u003e\u003cstrong\u003eUnbeatable Comfort \u003c\/strong\u003e - Soft memory foam cradles the face and the delicate eye area. On the other side, plush fabric stays soft and smooth. This reduced pressure on the eyes and makes it stand out from the competition. Sleeping well should feel luxurious too.\u003c\/span\u003e\u003c\/li\u003e\n\u003cli\u003e\n\u003cstrong\u003eHygienic and Washable \u003c\/strong\u003e- \u003cspan data-mce-fragment=\"1\"\u003eOn top of everything, SERENITY is so easy to keep clean. To clean, simply remove the earplugs and Bluetooth module from the eye mask, hand-wash it with a skin-friendly detergent, and hang dry. Now, it's clean and ready for your next snooze.\u003c\/span\u003e\n\u003c\/li\u003e\n\u003c\/ul\u003e\n\u003c\/ul\u003e"}
SERENITY - Bluetooth Sleep Eye Mask Headphones
SERENITY - Bluetooth Sleep Eye Mask Headphones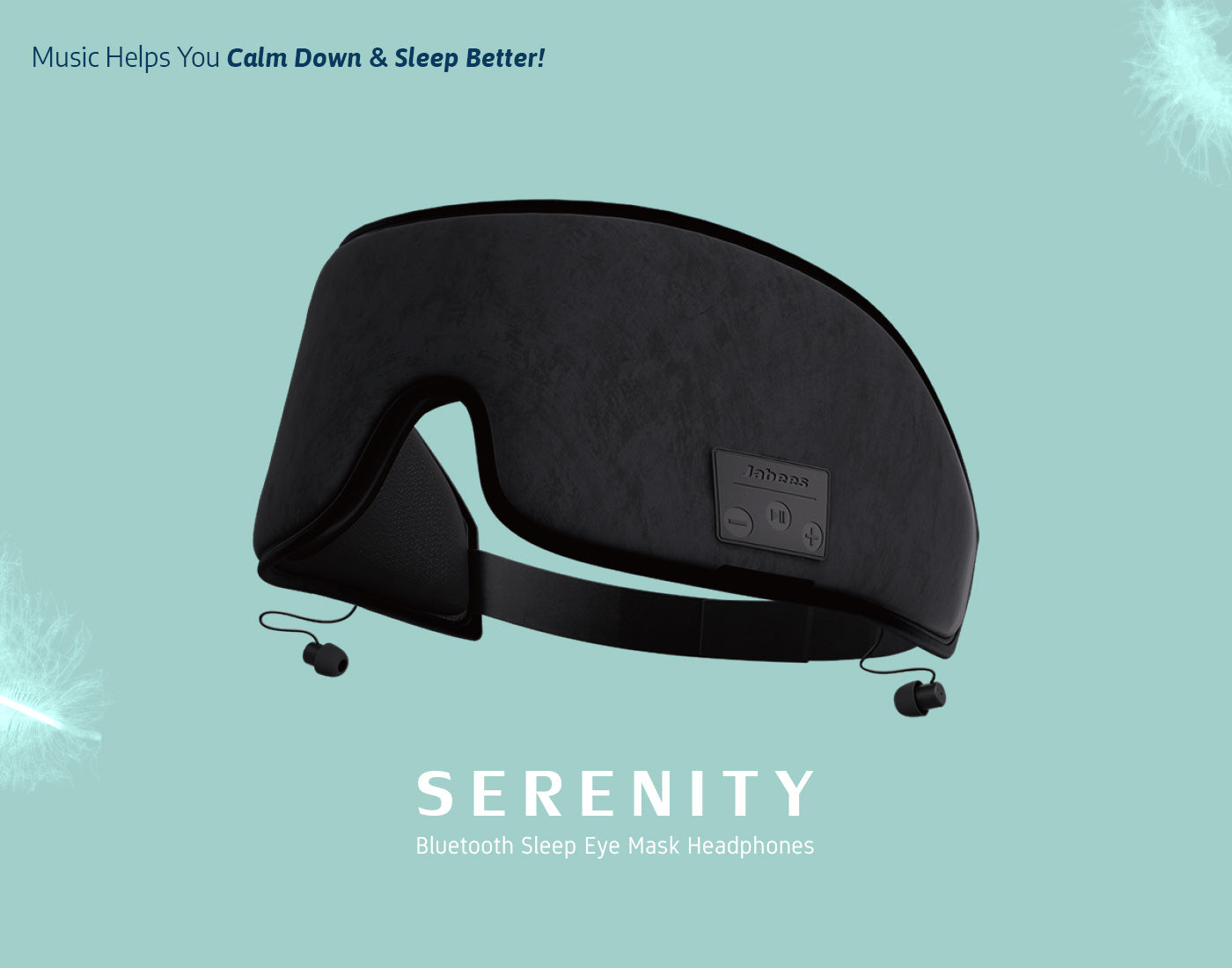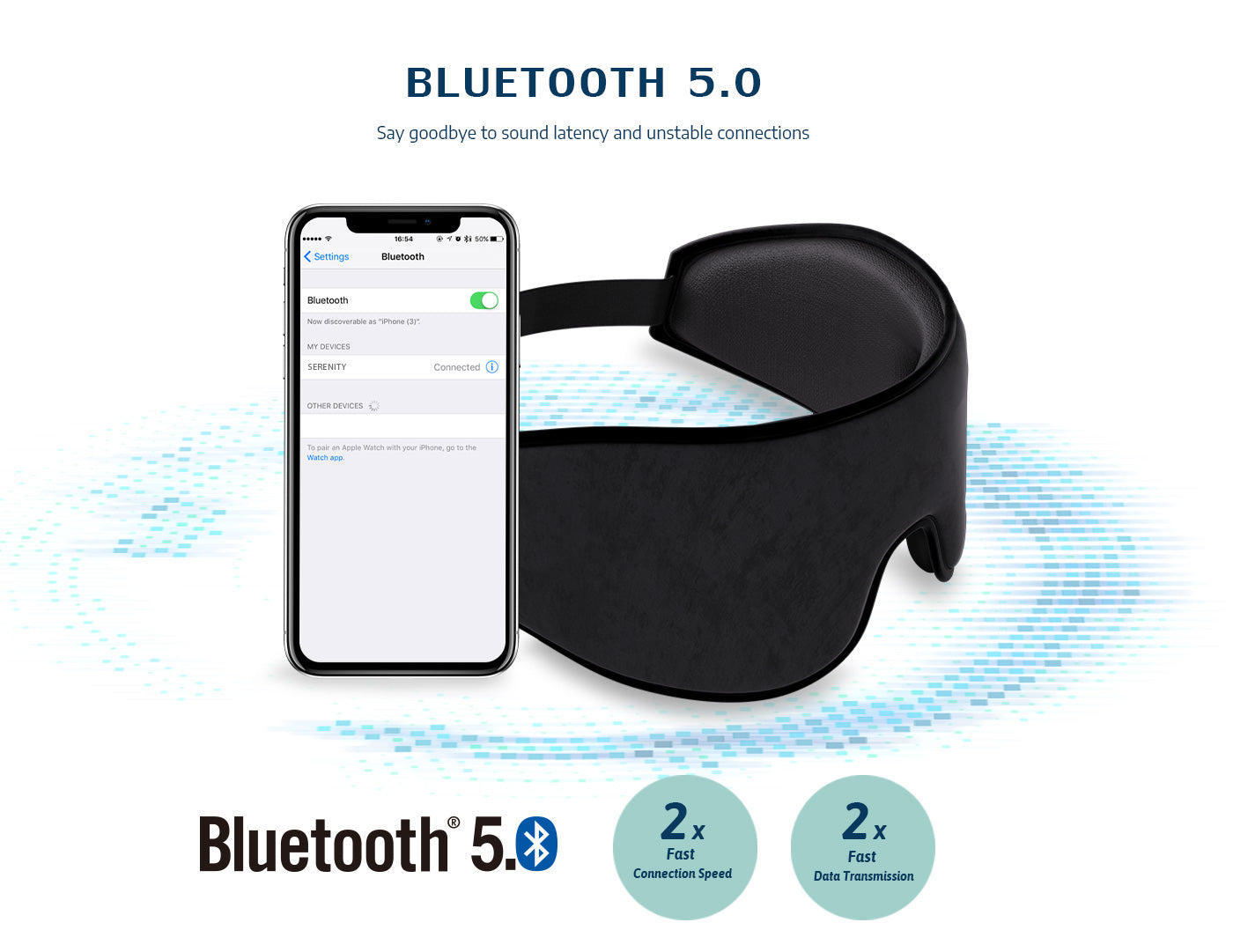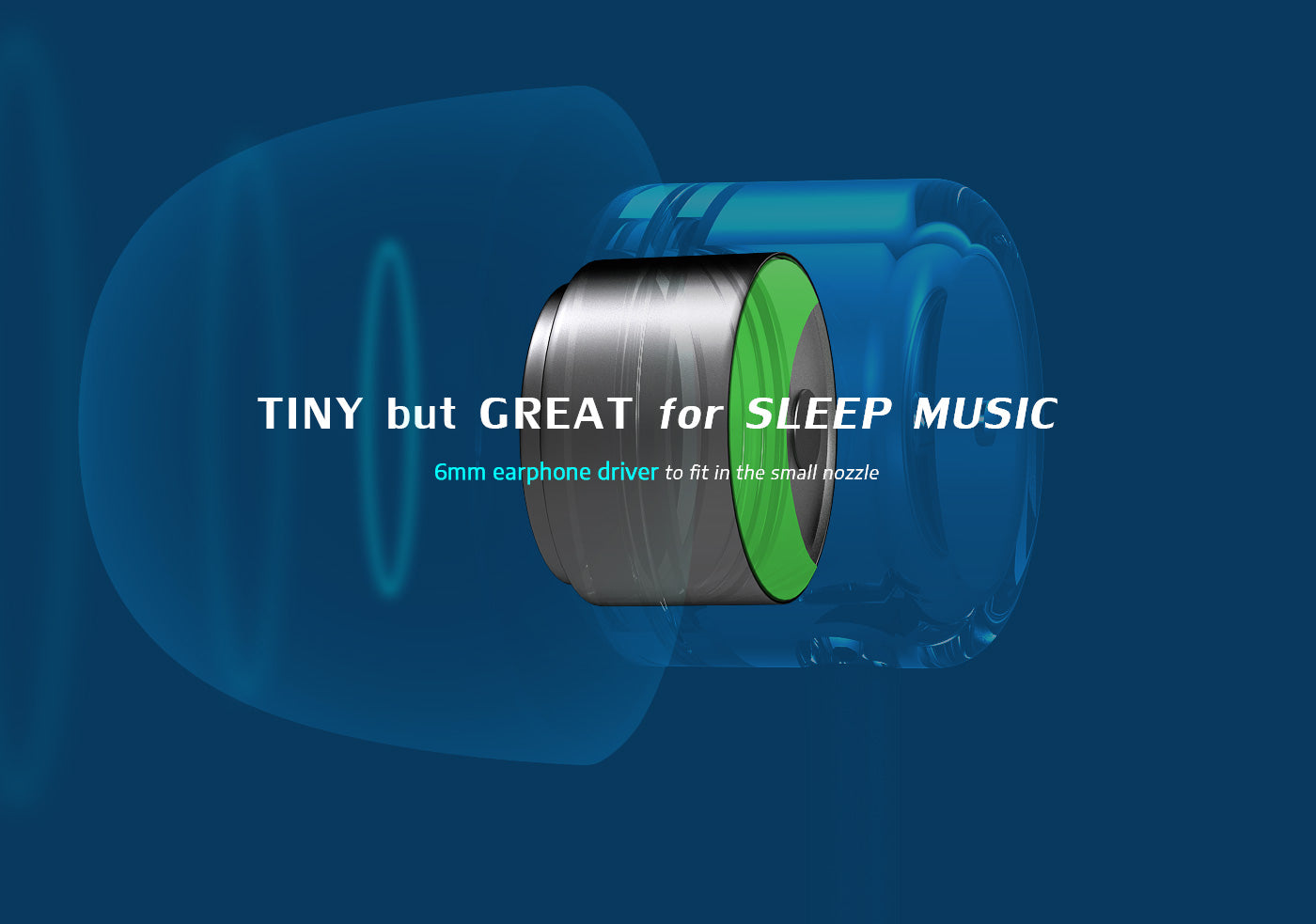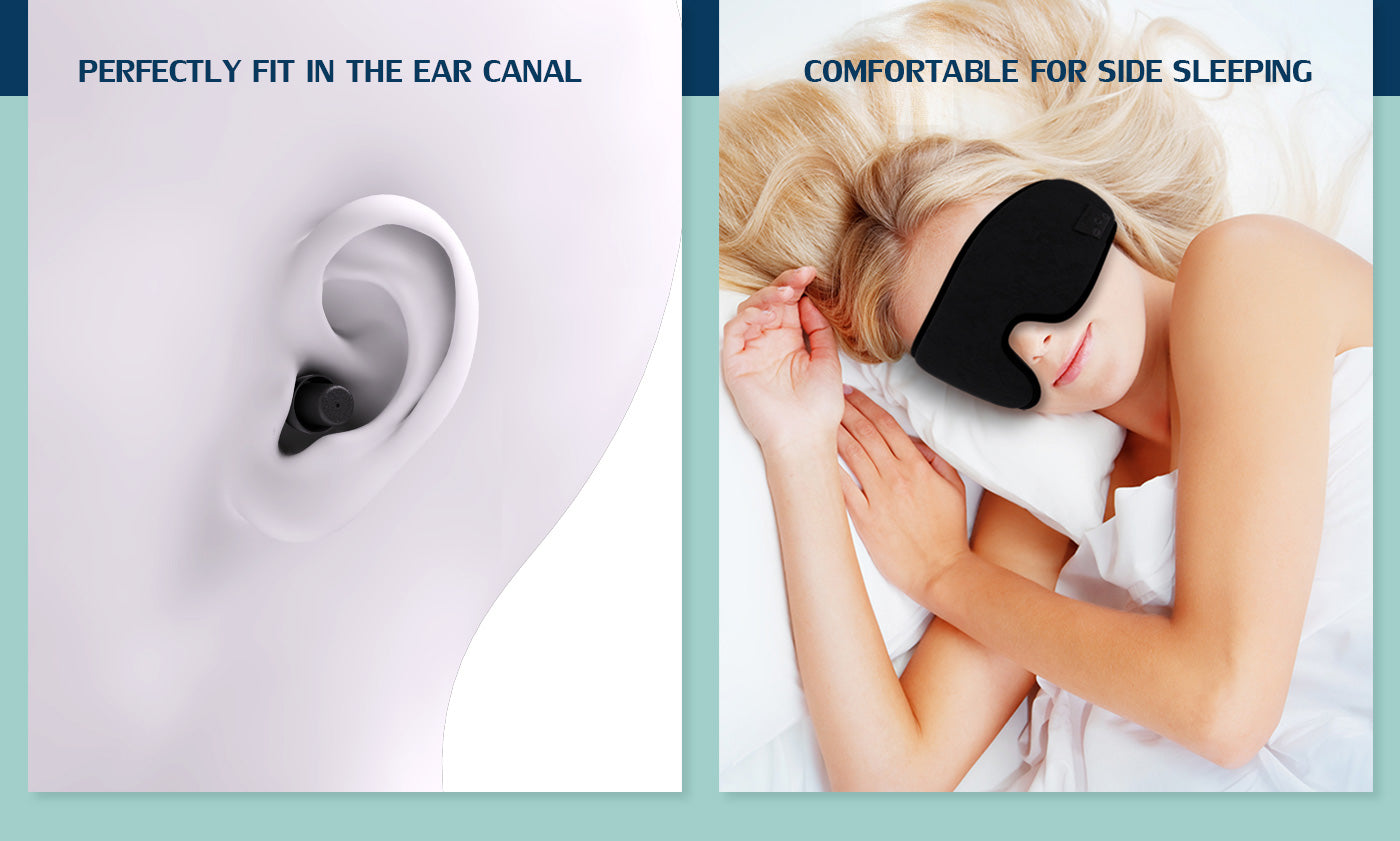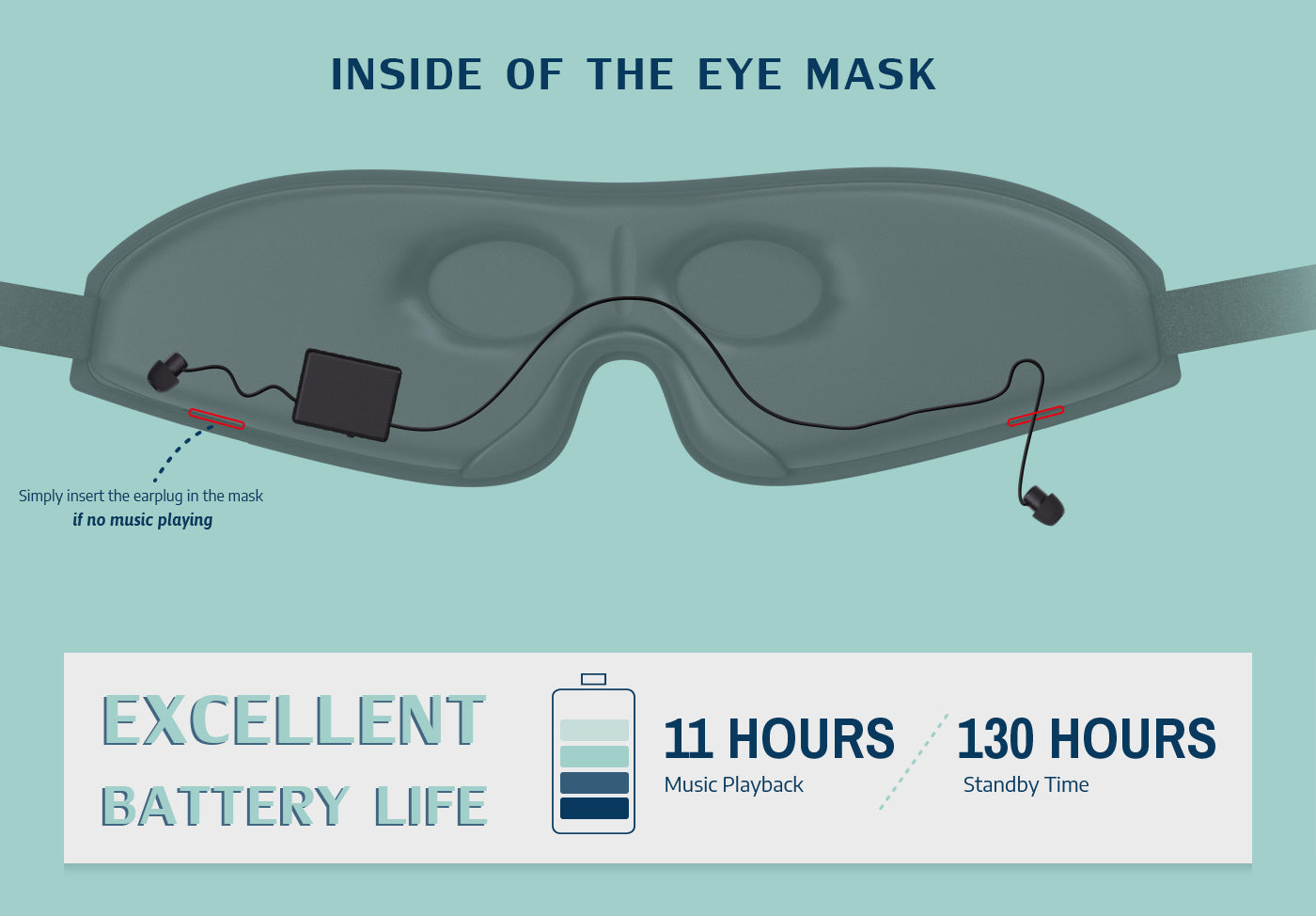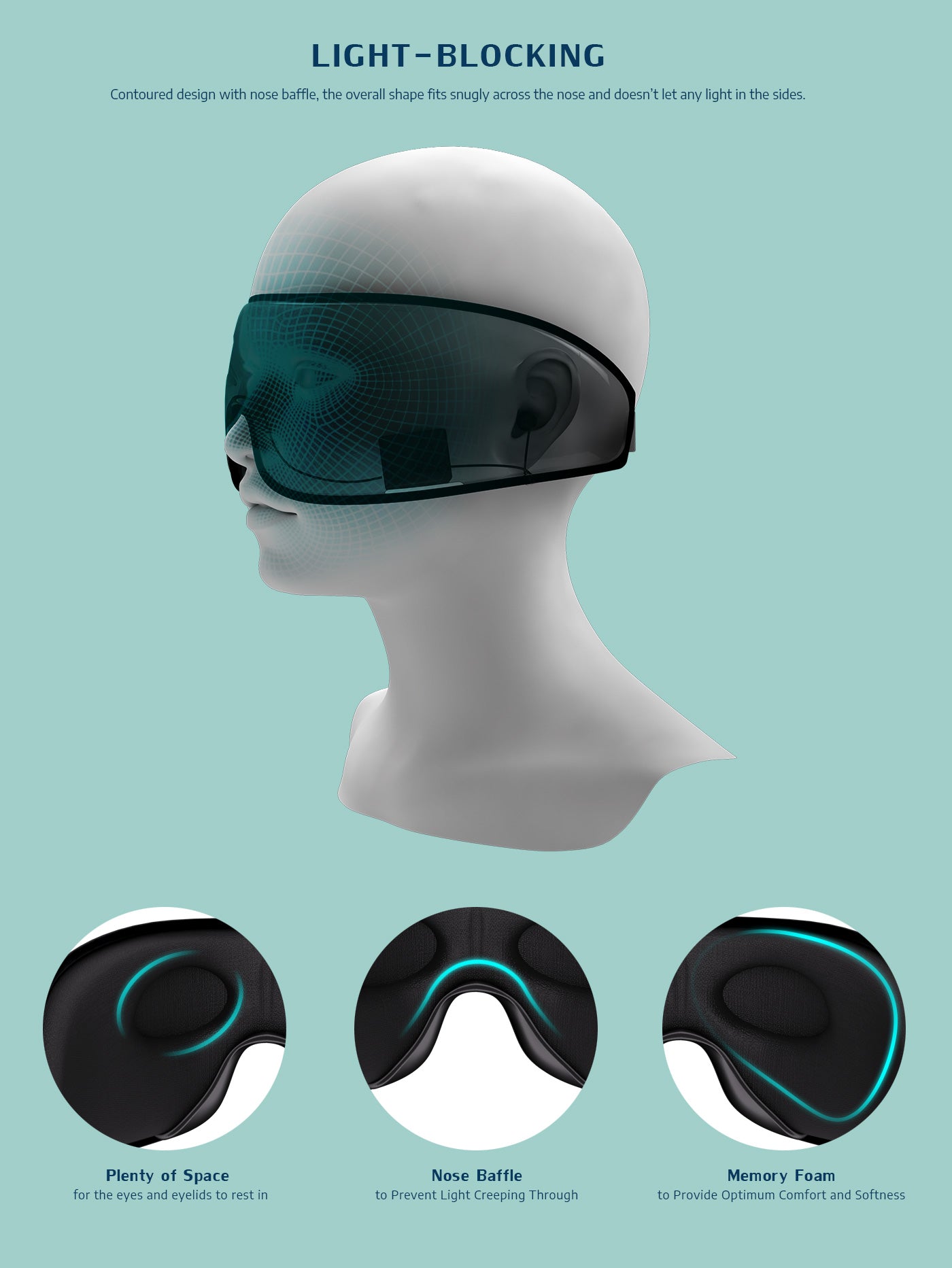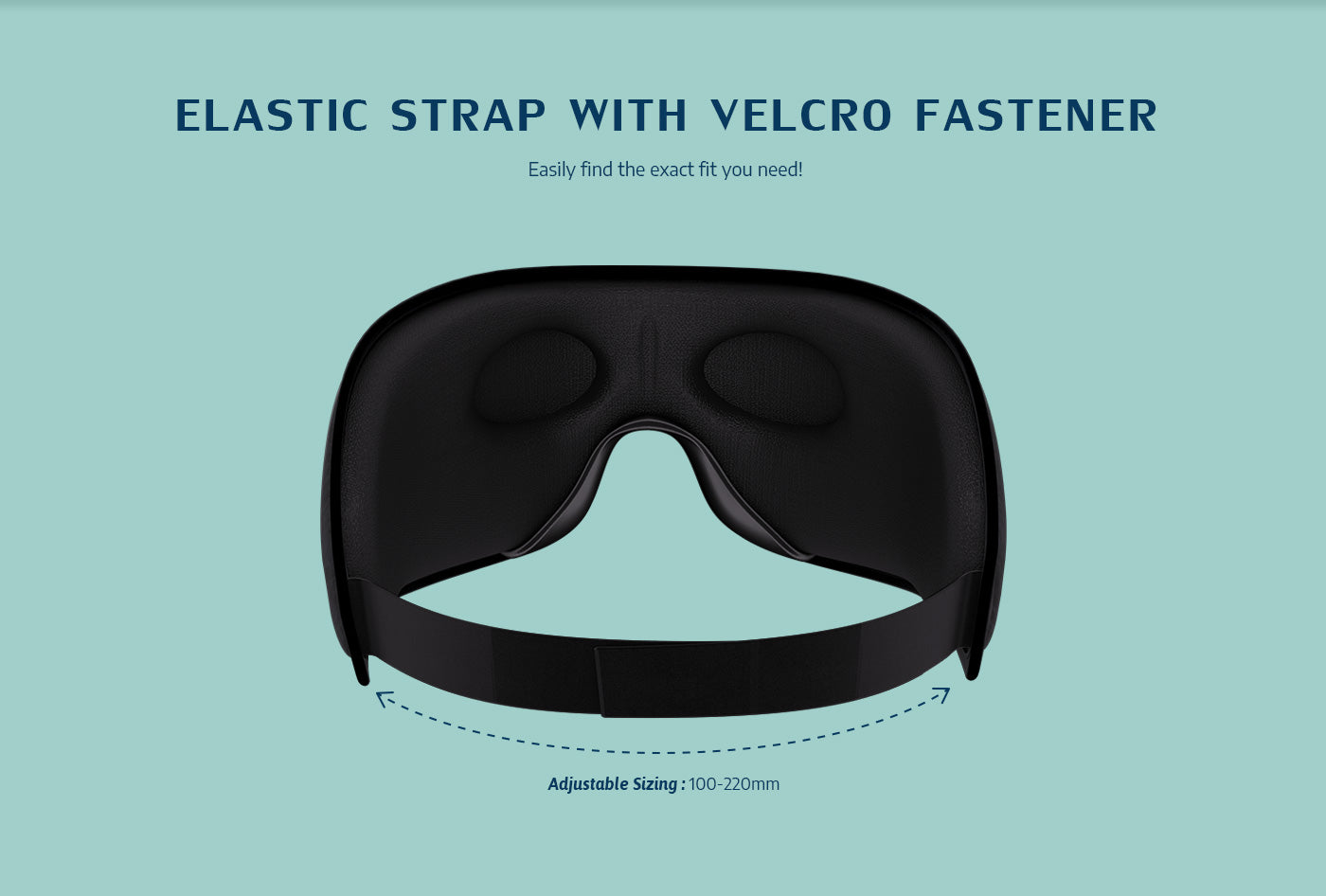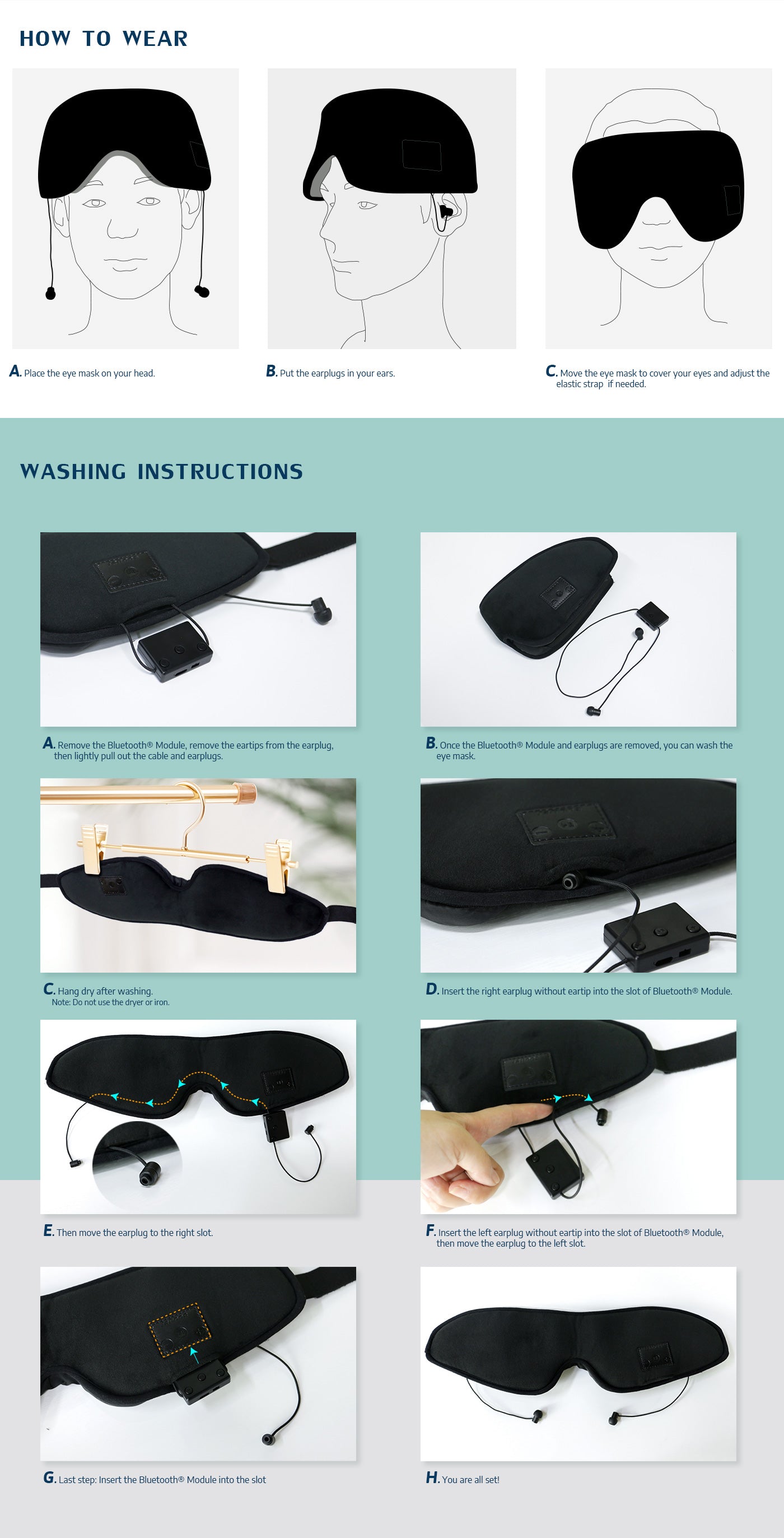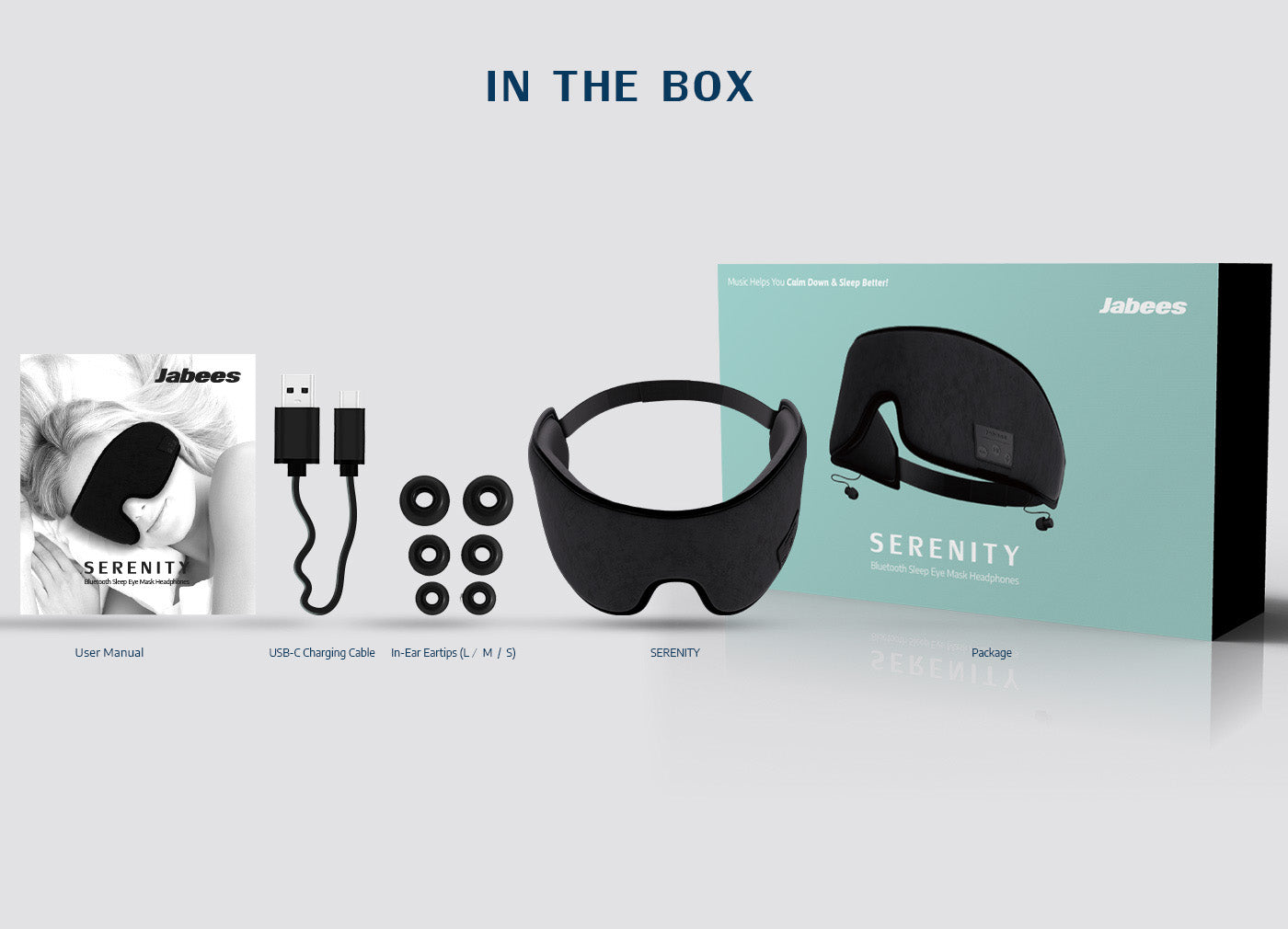 Losing out on sleep? We can help.

Introducing Serenity. It is a Bluetooth sleeping eye mask designed to help you sleep better. Our eye mask blocks out excess sound and light to improve your sleeping environment. On top of this, choosing your own music gives you a head start on relaxation, especially if you've had a stressful day. We feel that Serenity will help take care of those worries for you, so you can get to sleep right away.

Wireless Music On Demand

Bluetooth 5.0 delivers sound without the fuss of wires. Go beyond just blocking noise: Replace it with something you'd rather listen to. We recommend relaxing soundscapes or ASMR.

Light-Blocking Coverage

You can now sleep anywhere, even without blackout curtains. The contoured mask snugly covers all gaps, even at the nose area, and completely blocks out all light.

Unbeatable Comfort

Soft memory foam cradles the face and the delicate eye area. On the other side, plush fabric stays soft and smooth. This reduced pressure on the eyes and makes it stand out from the competition. Sleeping well should feel luxurious too.

Hygienic and Washable

On top of everything, SERENITY is so easy to keep clean. To clean, simply remove the earplugs and Bluetooth module from the eye mask, hand-wash it with a skin-friendly detergent, and hang dry. Now, it's clean and ready for your next snooze.

With over 11 hours of music playtime and over 5 days of standby time, this is definitely a sleep aid that will perform. Whether you're catching a quick nap or sleeping in, you deserve the best rest you can possibly get.
Features and benefits of Jabees SERENITY Bluetooth Sleep Eye Mask Headphones:
Bluetooth version: V5.0
Bluetooth profile HSP/HFP/A2DP/AVRCP
Operating distance Less than 10 meters in open area
Charging time approximately 2 hours
Music playback time: Up to 11 hours
Standby time: Up to 130 hours
Multipoint: Support for 2 mobile phones connection
Voice prompt in English and Chinese
Product dimension: 438.0 X 125.6 X 28.9 mm
Weight: 78g
Accessories Included with each order:
1 X USB-C Charging Cable
3 X In-Ear Eartips (S, M, L)
1 x User Manual
Attachments
Quick Reference Guide
Please click to download the User Guide of SERENITY. Should you have any question or encounter any problem, feel free to write email to
support@jabees.com
. You will get our reply in 24 hours.